This is Your Chance To Be Interactive with The Hustler De Tuti Hustlers LIVE Tonight!
STRIKEFORCE: TATE vs ROUSEY airs live tonight on Showtime at 10pm Eastern, and our very own Hustler De Tuti Hustlers Paul Heyman will be interactive with our audience LIVE tonight during the broadcast.
The main event will feature Miesha Tate (12-2, 5-1 in Strikeforce) vs "Rowdy" Ronda Rousey (4-0, 2-0 in Strikeforce) for the Women's Bantamweight Championship. "There is a true convergence of circumstances going on in Women's MMA right now," Paul commented, "with Cyborg suspended … Tate's amazing victory over Marloes Coenen … and the JEREMY LIN -esque rise of Rousey … this fight is happening at the right time with the right opponents!"
Tate's Bantamweight Title victory over Coenen with an arm triangle midway through the fourth round of their bout at Strikeforce: Fedor vs Henderson was as thrilling a Women's MMA contest as has ever been fought. But tonight's big story is the meteoric rise to fame of Rousey, who has taken her 4 victories via armbar submission to the top of the MMA world with this main event on Showtime. All of Rousey's victories have happened within the very first minute of the fight.
So tonight, either a new superstar will emerge at the top of the heap of Women's MMA, or Miesha Tate will silence the critics and snap Rousey's win streak in the same manner Rousey has snapped arms with his submissions.
You can be interactive with our HustleTweeters and our very own Hustler De Tuti Hustlers Paul Heyman by joining the conversation on Twitter HERE!
CHECK OUT THE PREVIEW VIDEO FOR MIESHA TATE vs RONDA ROUSEY!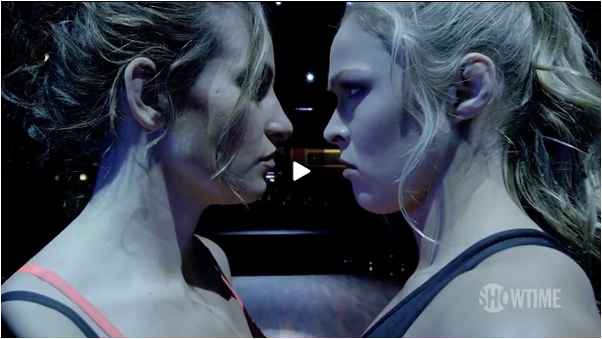 IT'S TIME FOR AN ALL NEW EDITION OF THE HOLLYWOOD CHARLIE
MEDIA WATCH, OUR DAILY TRAVEL ACROSS THE WORLD WIDE WEB.
OUR HIGHLY TRAINED MONKEYS HAVE PICKED OUT THE 15 WILDEST
STORIES FROM THE INTERNET FOR YOUR ASTUTE REVIEW. YOUR PART
IS VERY EASY. ALL YOU NEED TO DO IS PICK A PIC … AND CLICK!