It's The Pissed-off Patriarch vs Headline News' Resident Celeb-Analyst in a Battle … well, we don't know what they're fighting for. But they're fighting. Yes, neighbors, we're fixin' for a showdown!
In yet another installment of his ridiculously popular ANGRY GRANDPA SHOW, the crazed old timer REACTED TO THE CASEY ANTHONY VERDICT, and CNN Headline News' Dr. Drew broadcast part of the video on his cablecast. "Everyone," pleased Dr. Drew, "please calm down!"
That's when it all hit the fan.
"Dr. Drew! What is your mother f—king problem?" screamed Grandpa,"I ain't layin on your god damn couch, I ain't sittin' in ya mother f—–ng chair and I ain't in California with ya drug heads and some teen mom who kills her kid!"
You can follow The Angry Grandpa on Twitter, but please be warned … he's angry all the time! Check him out HERE!
Of course, we're HustleTweeting about Angry Grandpa, and you're more than welcome to join the conversation by following THE HEYMAN HUSTLE on Twitter HERE or write to us directly at hustleoncrave@gmail.com
You can also subscribe (for FREE, cheapos, absolutely FREE) to our Ultra High Quality YouTube Channel HERE, and don't forget to check out our old school social networking skills by visiting us on Facebook HERE and even on MySpace HERE

CLICK ON THE VIDEO BELOW FOR ANGRY GRANDPA'S EXCLUSIVE
RESPONSE TO DR DREW'S CALL FOR EVERYONE TO CALM DOWN!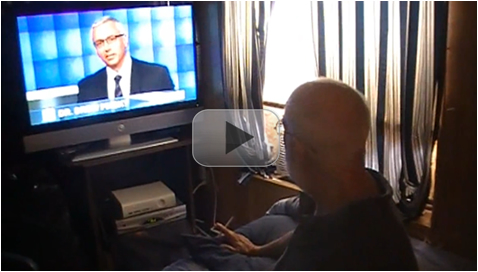 IT'S TIME FOR AN ALL NEW EDITION OF THE HOLLYWOOD CHARLIE
MEDIA WATCH, OUR DAILY TRAVEL ACROSS THE WORLD WIDE WEB.
OUR HIGHLY TRAINED MONKEYS HAVE PICKED OUT THE 15 WILDEST
STORIES FROM THE INTERNET FOR YOUR ASTUTE REVIEW. YOUR PART
IS VERY EASY. ALL YOU NEED TO DO IS PICK A PIC … AND CLICK!