Concert Promoters Pull The Plug on the Impromptu Bruce Springsteen / Paul McCartney Get Together on Stage at London's Hyde Park … and Then Have The Balls To Try and Justify It!
Here's one to tell the grand kids. True music royalty joined together on stage, and then concert organizers pulled the plug because of a sound curfew. WTF?
Rock Gods Bruce Springsteen and Paul McCartney were cut off after the pair defied the sound curfew at London's Hyde Park, as concert organizers silenced their microphones at the tail end of the show. Springsteen had already exceeded the 10:30 pm curfew by half an hour Saturday night when he welcomed McCartney on stage and the pair sang the Beatles hits "I Saw Her Standing There" and "Twist and Shout." But the microphones were turned off before they could thank the crowd, forcing them to leave the stage in silence.
A statement from concert organizer Live Nation said it was unfortunate that Springsteen's three-hour-plus performance was stopped "right at the very end," but it said that the curfew had been laid down by the authorities "in the interest of the public's health and safety."
So instead of blaming the authorities, the concert douches defend the move?
They didn't say "our hands were tied, we had no choice, and it sucks?"
Huge concerts in Hyde Park, a 350-acre expanse of landscaped garden and parkland that abuts some of London's wealthiest neighborhoods, have increasingly caused friction between fans and the area's well-heeled residents, many of whom gripe about the late-night noise and nuisance. What a bunch of wankers!
With complaints on the rise, local officials have decided that as of next year, the number of concerts will be slashed from thirteen to nine. Also in 2013, they plan to reduce crowd limits from 80,000 to 65,000.
Steven Van Zandt, who plays guitar in Springsteen's E-Street Band, criticized Saturday's decision as heavy-handed.
"English cops may be the only individuals left on earth that wouldn't want to hear one more from Bruce Springsteen and Paul McCartney!" he wrote on Twitter. "On a Saturday night! Who were we disturbing?" Finally he added: "There's no grudges to be held. Just feel bad for our great fans. … It's some City Council stupid rule."
London's flamboyant mayor, Boris Johnson, said Sunday that the singers should have been allowed to keep going.
"It sounds to me like an excessively efficacious decision," he told London radio. "You won't get that during the Olympics. If they'd have called me, my answer would have been for them to jam in the name of the Lord!"
We're HustleTweeting about this ridiculous controversy, and you're more than welcome to join the conversation by following the Hustle on Twitter HERE or write to us directly at hustleoncrave@gmail.com Hey, have you checked out the Hustle's Ultra High Quality You Tube Channel, with exclusive videos featuring BROCK LESNAR'S "HERE COMES THE PAIN" … ICE-T AND COCO's SEX SECRETS … THE ULTIMATE WELTERWEIGHT BAD ASS NICK DIAZ … CONTROVERSIAL TEEN SENSATION TAYLOR MOMSEN … LEGENDARY MMA PIONEER FRANK SHAMROCK … THE WALKING RIOT MISSY HYATT … if you're not subscribing, you're missing something … and by the ways cheapos, it's FREE! Yes, absolutely 100 percent FREE! What are you waiting for? Check it out HERE!
By the way, we're also old school social networkers, so check out our interactive skills on Facebook HERE and even on MySpace HERE. If you're on Friendster, GFY … and have a pleasant tomorrow!

THE BOSS AND THE BEATLE TWIST AND SHOUT ON STAGE IN LONDON!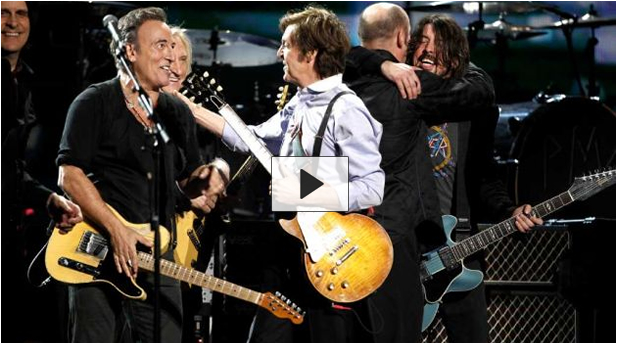 IT'S TIME FOR AN ALL NEW EDITION OF THE HOLLYWOOD CHARLIE
MEDIA WATCH, OUR DAILY TRAVEL ACROSS THE WORLD WIDE WEB.
OUR HIGHLY TRAINED MONKEYS HAVE PICKED OUT THE 15 WILDEST
STORIES FROM THE INTERNET FOR YOUR ASTUTE REVIEW. YOUR PART
IS VERY EASY. ALL YOU NEED TO DO IS PICK A PIC … AND CLICK!