Last night's mystery pop icon, as featured on the Hollywood Charlie Media Watch, was Ice-T's wife and Heyman Hustle Hottie Coco!
The bootilicious buxom blonde bombshell had people stumped, as her look has certainly changed in the past few years. Hey, maybe it has something to do with Ice-T's super secret sexual technique, "The Stroke!"
We're not kidding.
The OG of Cool revealed his secrets on an awesome EPISODE OF THE HEYMAN HUSTLE, where he bluntly told our Hustler De Tuti Hustlers Paul Heyman "You can hit on a swing, it ain't The Stroke!"
Coco also revealed Ice has "many different Strokes."
It's probably the wildest episode of the 1st season of the Hustle, and certainly one of my personal favorites. Do yourself a favor and check it out.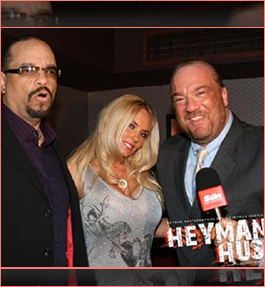 "She's a brilliant marketer," Paul said in our daily Hustle meeting yesterday, "she has played the subservient wife … she's played the bubble-headed blonde … she plays whatever role the media expects from her, but she's one shrewd businesswoman. She knows what she's doing, and she's not just some piece of eye candy to hang out on Ice-T's arm and shake her ass for his enjoyment."
Paul continued, "and Ice is no fool, either. He's da man! He has a ridiculously hot wife, who clearly keeps him stimulated… and I don't just mean by accepting The Stoke. Coco's got a brain, and Ice has a good laugh at the world that doesn't realize it. He's way too sharp a guy to simply keep a woman he uses as a sex toy under lock and key. There's a real respect there, and you have to believe that someone as forward-thinking and ambitious as Ice is going to look for someone who can hold a conversation. Check 'em out on the Hustle. Coco knows what's
she's doing. Their synergy is quite impressive!"
For A Special Bonus Gallery of
Heyman Hustle Hottie Coco at Her Finest,
Just Click on the Pics Below!
---
OUR TRAINED MONKEYS HAVE FOUND THE 15
HOTTEST, WILDEST, AND IN SOME CASES SEXIEST STORIES
FROM AROUND THE WORLD ON THE INTERNET.
MAKE A MONKEY FEEL WORTHWHILE … CLICK A PIC!