Our very own Hustler De Tuti Hustlers Paul Heyman Breaks a Major Exclusive About The Most Anticipated Video Game of the Year!
Paul Heyman, who changed the managerial game in WWE forever this year when he managed two of the three main events at WrestleMania (Paul managed BROCK LESNAR VS TRIPLE H … also also CM PUNK VS THE UNDERTAKER) has confirmed he will appear in the WWE 2K14 Video Game … the announcement was just made moments ago on a special edition of THE HEYMAN HUSTLE video series, which recently featured AN ALL TIME CLASSIC EPISODE STARRING STONE COLD STEVE AUSTIN, RIC FLAIR, MICK FOLEY, DANIEL BRYAN AND AUSTRALIAN SUPER MODEL SOPHIE TURNER!

The theme of Paul's message is, of course, most controversial, as our boss rebels against the label "manager" and instead refers to himself as an "advocate" … and a host of other descriptions. The game will be released in North America on October 29th, and the anticipation is at an all time high. You can check out the EXCLUSIVE video below, and then tell us your thoughts on it by joining the conversation with our HustleTweeters. All you have to do is follow the Hustle on Twitter HERE
OUR VERY OWN HUSTLER DE TUTI HUSTLERS PAUL "DON'T CALL ME A
MANAGER" HEYMAN BREAKS EXCLUSIVE NEWS ABOUT WWE 2K14 ON A BRAND
NEW LARGER THAN LIFE EPISODE OF "THE HEYMAN HUSTLE!"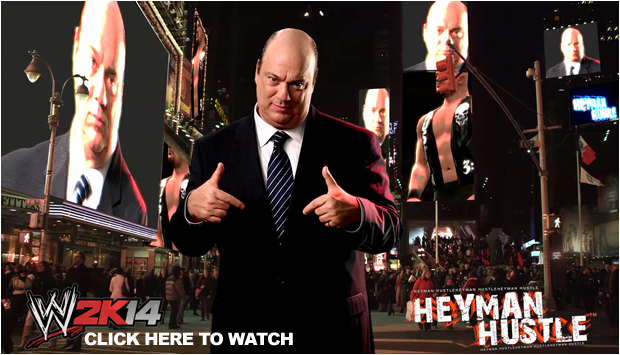 WE HERE AT THE HEYMAN HUSTLE HAVE ENSLAVED HIGHLY TRAINED
MONKEYS TO IGNORE THE FACT THEY ARE OVERWORKED AND UNDERPAID,
ALL IN THE NAME OF SCOURING THE WORLD WIDE WEB TO FIND THE FIFTEEN
MOST PROVOCATIVE STORIES ON THE INTERNET. ALL FOR YOU. NO ONE ELSE
BUT YOU. JUST YOU. AND ALL YOU NEED TO DO IS PICK WHICH PIC TO CLICK!