… posts casting call memo offering 50 dollars for actors to cheer on Trump during Presidential Campaign announcement!
Donald Trump's Presidential Campaign offered actors fifty dollars each to cheer for him at his Presidential Campaign announcement, according to a report in The Hollywood Reporter. New York City's Extra Mile Casting sent an email last Friday to its client list of background actors, seeking extras to beef up attendance at Trump's event.
"We are looking to cast people for the event to wear t-shirts and carry signs and help cheer him in support of his announcement," reads the June 12 email, obtained by The Hollywood Reporter.
The pay was listed as $50 for less than three hours of work. According to the email, Extra Mile was reaching out to potential extras in partnership with Gotham Government Relations and Communications, a New York-Based political consulting group that has worked with Trump in the past. Gotham GR had no comment to The Hollywood Reporter when asked about the casting.
Questions as to whether the Trump campaign had hired extras were first raised Wednesday by anti-Trump activist Angelo Carusone, who came across an Instagram photo showing a man he recognized as a background actor posing at the Trump event. Carusone screengrabbed the photo of the actor, Domenico Del Giacco, and published it in a blog post. The photo shows Del Giacco with a woman, identified in the now-deleted Instagram post as actress Courtney Klotz. Del Giacco has since deleted his entire Instagram account.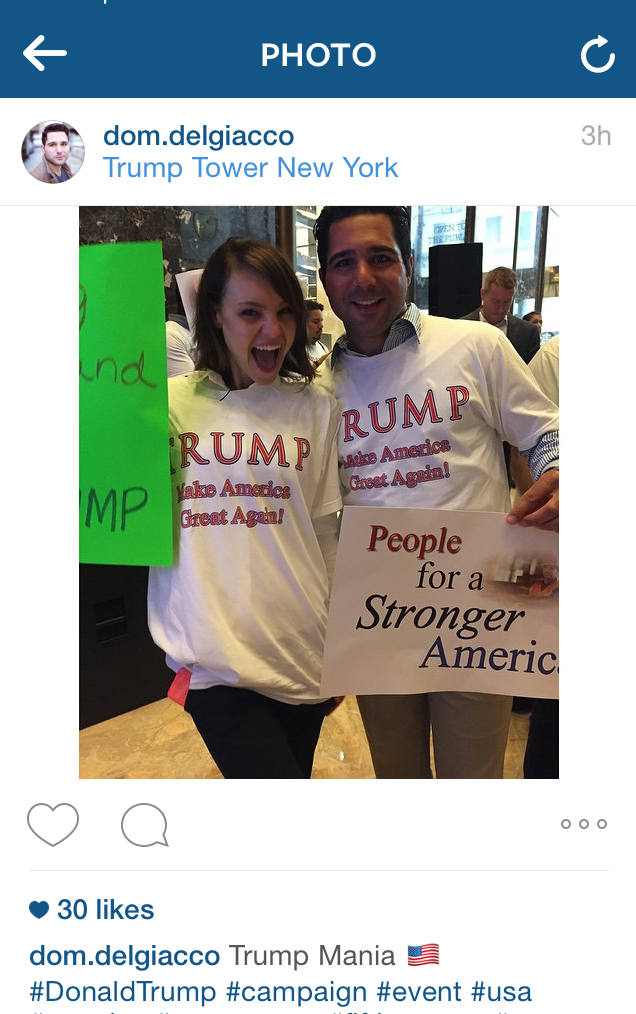 When The Hollywood Reporter reached out for comment about the Trump casting call, a person who answered the phone at Extra Mile said, "We don't know anything about that." When pressed about whether this response was a denial of the story, the person said she couldn't comment further and hung up. Additional calls to Extra Mile by The Hollywood Reporter went unanswered.
Asked if Trump paid anyone to attend the event, campaign manager Corey Lewandowski said "no," and that he had never heard of Extra Mile or Gotham GR.
"Mr. Trump draws record crowds at almost every venue at which he is a featured speaker," Lewandowski said. "The crowds are large, often record-setting and enthusiastic, often with standing ovations. Mr. Trump's message is, 'Make America great again.' "
In politics, "astroturfing" is when people are hired to attend a rally or event in order to lend the appearance of grassroots support. They are typically contracted out to political consulting firms, much like Gotham GR. The practice is unsurprisingly considered bad form.
Here's the full email from Extra Mile, with contact information redacted.
Hi there—
We are working helping one of are [sic] associates out at Gotham GR – http://gothamgr.com/ with a big event happening on TUESDAY 6/16/15.
This is an event in support of Donald Trump and an upcoming exciting announcement he will be making at this event.
This event is called "People for a Stronger America." The entire group is a pro-small business group that is dedicated to encouraging Donald Trump and his latest ventures. This event will be televised.
We are looking to cast people for the event to wear t-shirts and carry signs and help cheer him in support of his announcement.
We understand this is not a traditional "background job," but we believe acting comes in all forms and this is inclusive of that school of thought.
This event is happening LIVE and will be from 8:45AM-11:30AM. LESS THAN 3 HOURS
This will take place inside / interior.
The rate for this is: $50 CASH at the end of the event.
We would love to book you if you are interested and still available.
Please let us know and we will get back to you with confirmation.
Of course, we're HustleTweeting about Donald Trump, and you're more than welcome to join the conversation by following The Heyman Hustle on Twitter HERE! You can also post your thoughts on our Facebook page HERE! If you feel compelled to write us, please do so at HustleOnCrave (at) Gmail.com
BTW, we are kicking ass with our YouTube Channel which features such amazing videos as BRUTAL WWE MOVES: THE REVENGE … #HustleBootyTempTats SUPER MODEL OF THE YEAR ELLIE GONSALVES … BEHIND THE SCENES with BROCK LESNAR … MISSY HYATT's SEX CONFESSIONS … and never to be outdone, COCO DISCUSSES "THE STROKE!"

We are, indeed, on MySpace but we've neglected our account for years … and if you're looking for our Friendster account, GFY!

WE HERE AT THE HEYMAN HUSTLE HAVE ENSLAVED HIGHLY TRAINED
MONKEYS TO IGNORE THE FACT THEY ARE OVERWORKED AND UNDERPAID,
ALL IN THE NAME OF SCOURING THE WORLD WIDE WEB TO FIND THE FIFTEEN
MOST PROVOCATIVE STORIES ON THE INTERNET. ALL FOR YOU. NO ONE ELSE
BUT YOU. JUST YOU. AND ALL YOU NEED TO DO IS PICK WHICH PIC TO CLICK!