The 1st trailer for UFC 116 Brock Lesnar vs Shane Carwin has been released by Zuffa, and the battle for the Undisputed UFC Heavyweight Championship of the World has entered phase one of UFC's hype for the biggest pay per view of the year!
On Saturday night July 3rd, UFC Heavyweight Champion Brock Lesnar will return to the Octagon and face UFC Interim Heavyweight Champion Shane Carwin. Lesnar is returning from his serious illness which almost ended his career. Carwin is 12-0, and crushed Frank Mir for the Interim Championship at UFC 111.
 
Later tonight, our own Hustler De Tuti Hustlers Paul Heyman will be posting a blog on Brock's first week of training camp for the showdown with Carwin. In the meantime, enjoy the hype!
CLICK ON THE VIDEO BELOW TO SEE THE 1st TEASER
FOR BROCK LESNAR VS SHANE CARWIN AT UFC 116!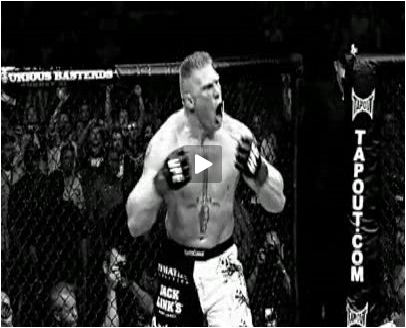 ---
IT'S A BRAND NEW WEEK, AND A BRAND NEW EDITION OF THE
HOLLYWOOD CHARLIE MEDIA WATCH. THE HEYMAN HUSTLE IS
PROUD TO PRESENT THE 15 HOTTEST STORIES FROM THE WEB
AVAILABLE AT YOUR GRUBBY LITTLE FINGERTIPS RIGHT NOW
FOR YOUR REVIEW. IT'S ALL HERE! JUST PICK A PIC AND CLICK!