UFC Heavyweight Champion Brock Lesnar is favored to defeat Interim Heavyweight Champion Shane Carwin in the main event of UFC 116, live at the MGM Grand Garden Arena in Las Vegas this Saturday night. Lesnar opened as a -200 UFC Betting favorite but some large wagers on the undefeated Carwin have knocked that number down 45 points to Lesnar -155. There are still several days to go, so these numbers may change, but as of this posting, the official Las Vegas book is Lesnar to win, with -155 odds in the former WWE Champion's favor.
CLICK HERE TO READ PAUL HEYMAN'S BLOG ON BROCK LESNAR'S DEMEANOR GOING INTO FIGHT WEEK AND THE EXTRAORDINARY CHANGE FROM PREVIOUS FIGHT WEEKS!

CLICK HERE FOR INFORMATION ON SPIKE TV AIRING THE UFC 116 WEIGH-INS THIS FRIDAY

CLICK ON THE VIDEO BELOW TO SEE THE PREVIEW
FOR LESNAR VS CARWIN AT UFC 116!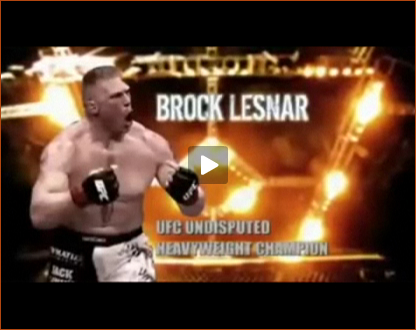 THE HEYMAN HUSTLE'S VERY OWN TRAINED MONKEYS ARE PROUD
TO PRESENT THE TOP 15 STORIES OF THE DAY, ALL CONVENIENTLY
LINKED HERE FOR YOUR REVIEW. NO NEED TO SURF THE WEB, WE
DID ALL THE HARD WORK FOR YOU. JUST PICK A PIC AND CLICK!