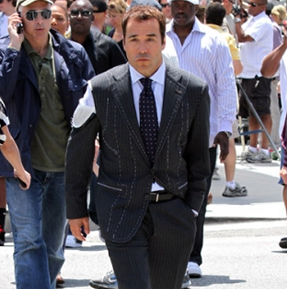 Piven Films on the Streets of Hollywood as Ari Gold Looks to Conquer The NFL!
"Entourage" returns to HBO this Sunday, so they just happened to film the middle of Hollywood today, and surprise surprise caused a huge scene, which of course created more buzz for Sunday's final season premiere. Don't despair! It's not going away like Oz or The Sopranos. This HBO series is going cinema!

In the very first few new episodes of the new season, Jeremy Piven's Ari Gold is mad wheelin' and dealin'. Ari's being courted by Dallas Cowboys owner and General Manager Jerry Jones to be the new GM for an NFL team in Los Angeles. Jerry Jones is played by, well, himself. "Ari Gold loves his family more than anything in the world, but he's in jeopardy of losing it," said Piven about the show that begins its new season Sunday on HBO. "He just wants to try to run a sports team. He just has an insatiable appetite for power and money, and he will be brought to his knees."
On the potential of the Entourage movie, the Piv offered "People always come to me and say the episodes are not long enough, so this will be the chance for people to see two hours of Entourage, which will be really great, and I really look forward to it. I think Ari needs a feature film. Ari Gold is too big for TV, too big for the small screen!"
CLICK HERE TO SEE THE ENTIRE GALLERY OF THE HEYMAN HUSTLE'S
EXCLUSIVE BEHIND-THE-SCENES LOOK AT JEREMY PIVEN ON ENTOURAGE

THE HEYMAN HUSTLE'S VERY OWN TRAINED MONKEYS ARE PROUD
TO PRESENT THE TOP 15 STORIES OF THE DAY, ALL CONVENIENTLY
LINKED HERE FOR YOUR REVIEW. NO NEED TO SURF THE WEB, WE
DID ALL THE HARD WORK FOR YOU. JUST PICK A PIC AND CLICK!