E! Network's 360 coverage of all things pop culture pays homage to our own Hustler De Tuti Hustlers' epic rant on WWE Monday Night RAW!
When THE SOUP host Joel McHale played the video clip from Monday's RAW which featured PAUL HEYMAN'S EPIC "LAVA" PROMO we knew our boss had just entered a buzzworthy zone in the pop culture landscape, but the volcano (sorry, it was too easy) of comments, replies, replies to comments, and comments on the replies on Twitter and Facebook was nothing short of (fill in your own joke here, we've been dealing with volcano / Paulcano / lava jokes all week)!

The good folks (we really don't know if they're "good" folks, they may be total butt munchers for all we know, but they gave our boss some publicity, so we'll call 'em "good") at The Soup were kind enough to send us the clip from the show, and we're proud as mofos to share that hot lava-dripping clip with you right now.

So, what did YOU think of The Soup's playback of Paul Heyman's LAVA promo? We're HustleTweeting about it right now, and you're more than welcome to join the conversation by following THE HEYMAN HUSTLE and telling us what YOU think RIGHT F'N HERE! We got the whole social media thing covered, so check out the Hustle's Ultra High Quality You Tube Channel, with exclusive videos featuring OUR WORLD EXCLUSIVE WITH MIKE TYSON … BROCK LESNAR'S "HERE COMES THE PAIN" … ICE-T AND COCO's SEX SECRETS … TEEN SENSATION TAYLOR MOMSEN … UFC BAD BOY NICK DIAZ … THE WALKING RIOT MISSY HYATT if you're not subscribing, you're missing something … and by the ways cheapos, it's FREE! Yes, absolutely 100 percent FREE! What are you waiting for? Check it out HERE!
By the way, we're also old school social networkers, so check out our interactive skills on Facebook HERE and even on MySpace HERE. If you're on Friendster, GFY … and have a pleasant tomorrow!
CHECK OUT JOEL McHALE INTRODUCING THE SOUP'S AUDIENCE
TO PAUL HEYMAN'S EPIC "LAVA" PROMO FROM WWE MONDAY NIGHT RAW!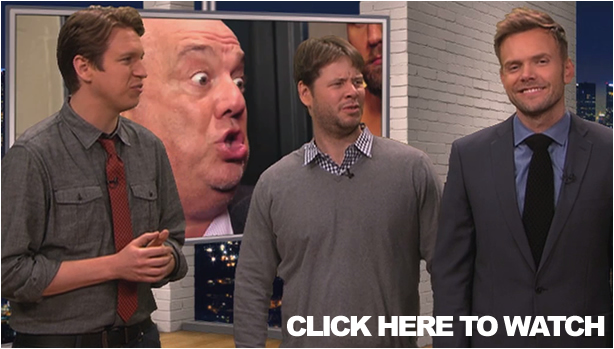 WE HERE AT THE HEYMAN HUSTLE HAVE ENSLAVED HIGHLY TRAINED
MONKEYS TO IGNORE THE FACT THEY ARE OVERWORKED AND UNDERPAID,
ALL IN THE NAME OF SCOURING THE WORLD WIDE WEB TO FIND THE FIFTEEN
MOST PROVOCATIVE STORIES ON THE INTERNET. ALL FOR YOU. NO ONE ELSE
BUT YOU. JUST YOU. AND ALL YOU NEED TO DO IS PICK WHICH PIC TO CLICK!