Floyd Mayweather is in an ugly dispute, and there are major threats of violence. Oh, we're not talking Money May. This beef involves Dear Old Daddy Mayweather!
There's trouble brewing in Las Vegas.
According to an EXCLUSIVE interview Floyd Mayweather Senior granted Percy Crawford of FIGHT HYPE, the May 4th pay per view extravaganza featuring Floyd Mayweather Junior vs Robert Guerrero could turn into a family affair.
"Guerrero is gonna be in trouble if he thinks he's kicking my son's ass, and like I told the reporter that came into the gym the other day, I don't give a fuck how old his daddy is, if he get out of line, I'll kick his ass," Mayweather Senior exclaimd to Crawford during the interview.
"So my son gonna kick The Ghost ass and if his daddy get out of line, I'm gonna kick his ass," Mayweather stated, making it clear that he had no problems with stepping to Guerrero's own father should he get out of line during the promotion of the fight. According to the report, Guerrero's father, Ruben, took offense to the comment and wasted no time to respond.

"We can go in the parking lot, me and him, and let's see who's walking back. I'll kick his fucking ass, him and his son. I can meet both of them in the parking lot. I don't need Robert. I'll kick both of their fucking asses. That fucking ass will go down. They want to heat it up, I'll heat it up," Ruben Guerrero replied in a recent interview with Rick Reeno of BOXING SCENE

"I'm 30-0 in the barrio, knocking fools out," the older Guerrero stated, "I'm undefeated in street fighting. I'm a street fighter bro. They brought him in because he's a bandwagon. I've been with my son since he was five years old. My son never treated me like a piece of shit on TV like his son did. That guy don't scare me. He ain't shit to me."

Mayweather Senior issued his retort to Crawford. "Wait until we get to the press conference. We gonna see, because I wish that motherfucker would call himself swinging on me," he stated, "They can close the door because I'm gonna put his ass on the floor. He don't need to worry about what happened between me and my son. Worry about what's gonna happen to your son and your ass if you run up on me. I wish that motherfucker would call himself coming up on me. I don't know where he was shot at, but I bet it wasn't worse than when I got shot. I'm gonna break his ass down, so I hope he didn't get shot in the body," Mayweather Sr. fired back. "Then again, I'm gonna hit him on the fucking chin anyway, so it don't matter. Motherfucker was talking shit about Lil' Floyd and that ain't gonna go down. He say he fucking 30-0 in the streets? He can get ready to be 30-1 because I don't fuck around. I will be 60 years old on March 15th and I bet you I will break any motherfucking 50-something-year-old motherfucker down. It don't matter how old he is. I will be at all the press conferences and when he see me, he better be ready. None of that street talking shit scare me, motherfucker. He better check my reputation. Like I said, they better close the door and give him room to fall if that motherfucker get in my face, because I'm gonna whoop his ass and you can mark my words on that. Watch what I tell you. He getting into some shit he ain't ready for!"

Looks like SHOWTIME STEALING FLOYD MAYWEATHER AWAY FROM HBO has landed the cable network a 2-for-1 slugfest! Of course, we're HustleTweeting about The Mayweathers vs The Guerreros, and you're more than welcome to join the conversation by following us on twitter HERE or write us directly at hustleoncrave@gmail.com Hey, have you checked out the Hustle's Ultra High Quality You Tube Channel, with exclusive videos featuring OUR WORLD EXCLUSIVE WITH MIKE TYSON … BROCK LESNAR'S "HERE COMES THE PAIN" … ICE-T AND COCO's SEX SECRETS … TEEN SENSATION TAYLOR MOMSEN … UFC BAD BOY NICK DIAZ … THE WALKING RIOT MISSY HYATT if you're not subscribing, you're missing something … and by the ways cheapos, it's FREE! Yes, absolutely 100 percent FREE! What are you waiting for? Check it out HERE!
By the way, we're also old school social networkers, so check out our interactive skills on Facebook HERE and even on MySpace HERE. If you're on Friendster, GFY … and have a pleasant tomorrow!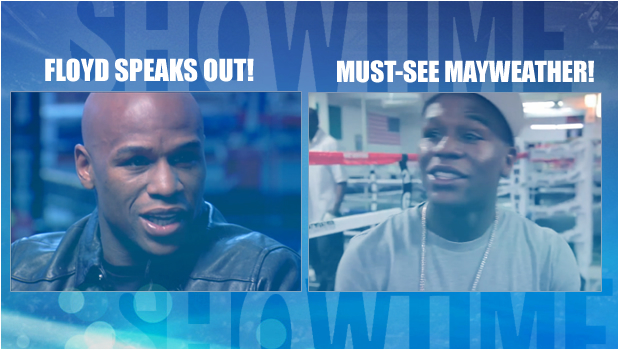 WE HERE AT THE HEYMAN HUSTLE HAVE ENSLAVED HIGHLY TRAINED
MONKEYS TO IGNORE THE FACT THEY ARE OVERWORKED AND UNDERPAID,
ALL IN THE NAME OF SCOURING THE WORLD WIDE WEB TO FIND THE FIFTEEN
MOST PROVOCATIVE STORIES ON THE INTERNET. ALL FOR YOU. NO ONE ELSE
BUT YOU. JUST YOU. AND ALL YOU NEED TO DO IS PICK WHICH PIC TO CLICK!