HUSTLE EXCLUSIVE — Tease, Preview and Review!Play WWE 2K15 Anytime and Anywhere!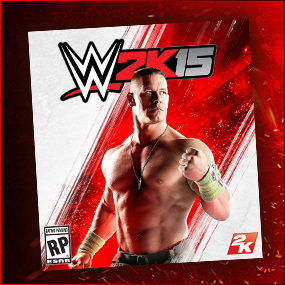 HUSTLE EXCLUSIVE — Tease, Preview and Review!
For years, the WWE Universe has dreamed of the opportunity to take the full WWE 2K game experience with them whenever and wherever they go. Finally, that day is here and WWE 2K15 for mobile has arrived!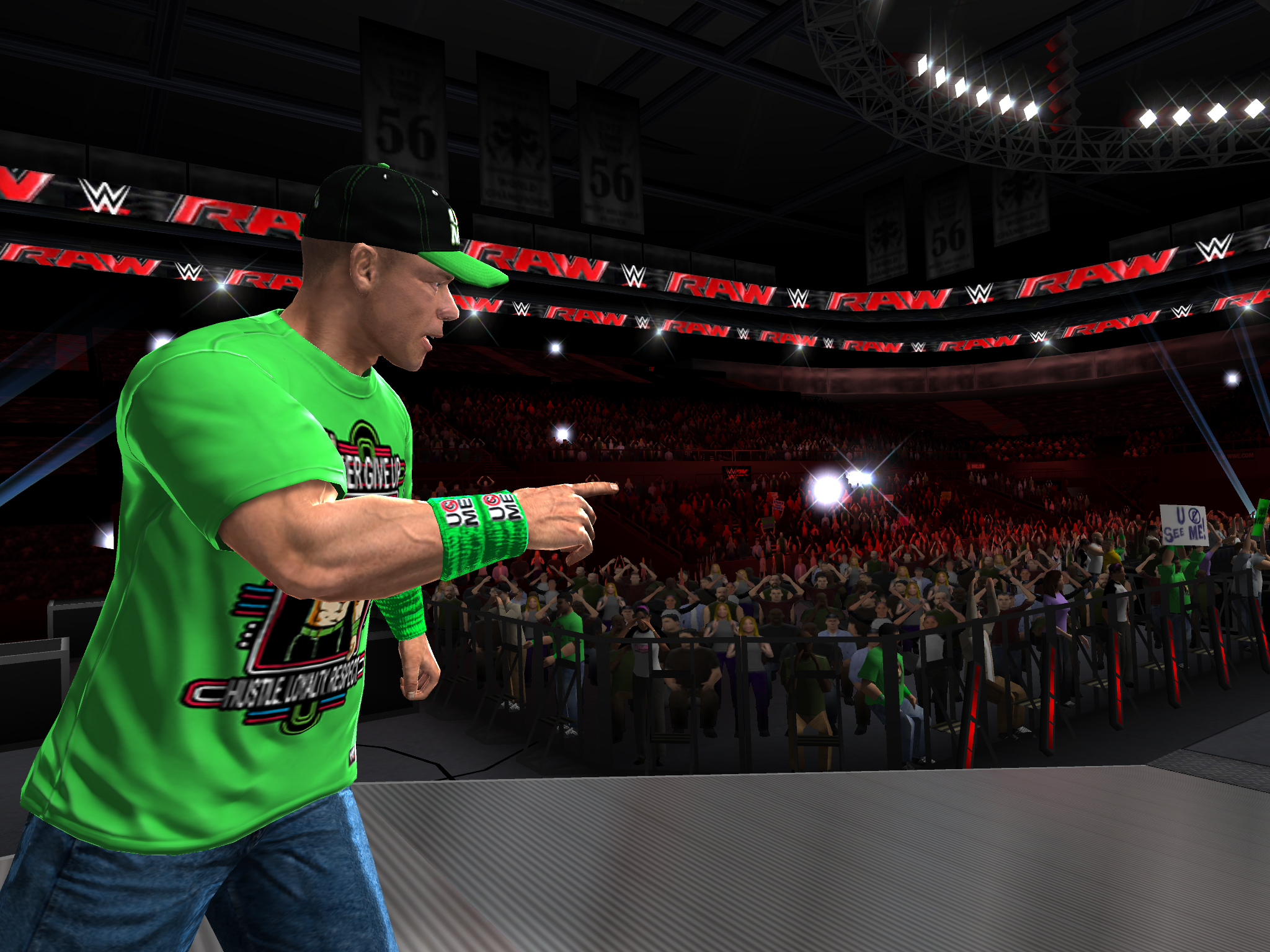 Now, you may be asking yourself how the larger-than-life experience of the console versions has translated into the mobile arena. Well let me tell you – not only did 2K knock this one right out of the park, but they've crafted an authentic WWE mobile experience the likes of which has never been seen!

Just like its console brethren, upon launching the game you'll be treated to the familiar sounds of your favorite WWE Superstar theme music as you choose between quick match options in Single and Online Multiplayer or starting your journey to immortality through Career Mode. Fans of the console games will immediately feel right at home while players new to the WWE 2K games will find everything they need to be a WWE Superstar right at their fingertips.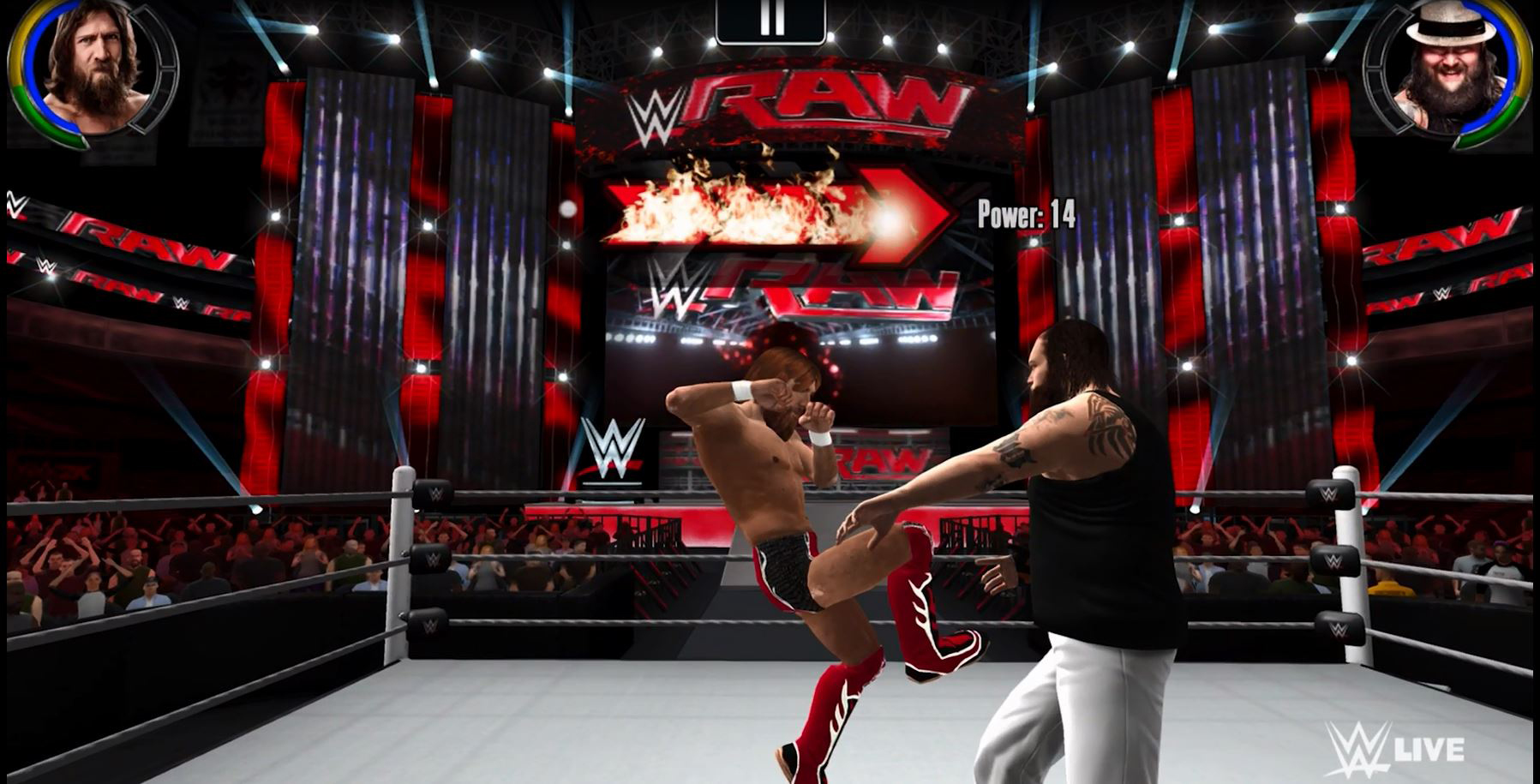 The secret sauce lies in the game's simple yet elegant control scheme. The intuitive touch controls feel like second nature after the well-thought-out Training tutorial eases players into the squared circle – you'll be a seasoned ring general in no time! From the simple swipes and pinching motions to the intense rapid tapping, players will love the game's natural controls as they pull out devastating Signature and Finishing Maneuvers with ease. Executing a Viper-like Powerslam off the ropes has never felt so crisp and so satisfying.

Three match types (Standard, No DQ and Cage Match) flank your Superstar selections and all the big names are present and accounted for on the roster. From all three former Shield members to The Immortal Hulk Hogan and even The Vigilante, Sting. And of course The Beast Incarnate himself, Brock Lesnar, is ready to conquer the mobile arena just like he does every time in the ring.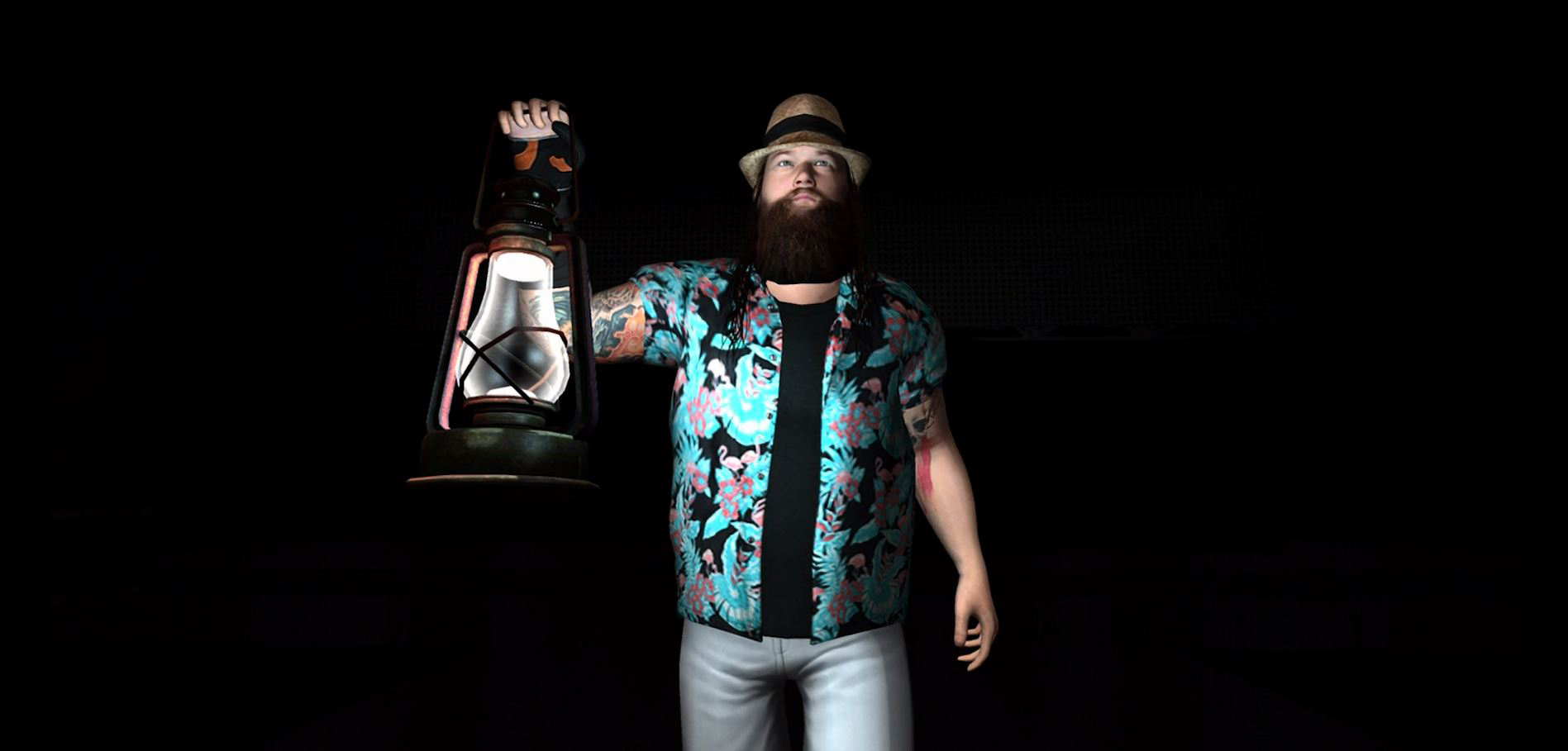 As an authentic simulation of the WWE game experience, the visuals have made an astounding jump to mobile. From the breathtaking entrance of Bray Wyatt by the light of his Fireflies to The Samoan Badass Roman Reigns entering through the rowdy crowd, the game's clean graphical style makes room for the gorgeous visuals to shine through.

The robust Create-a-Superstar mode offers a wide range of choices to customize your future champion. From hairstyles to beardstyles (for all of you in the Yes Movement), you'll have no problem shaping your ideal Superstar to take with you wherever you go. With a huge amount of unlockable customization options and four different fighting styles to choose from (Striker, Grappler, Finesse and Balanced), there's plenty of reasons to keep coming back for more.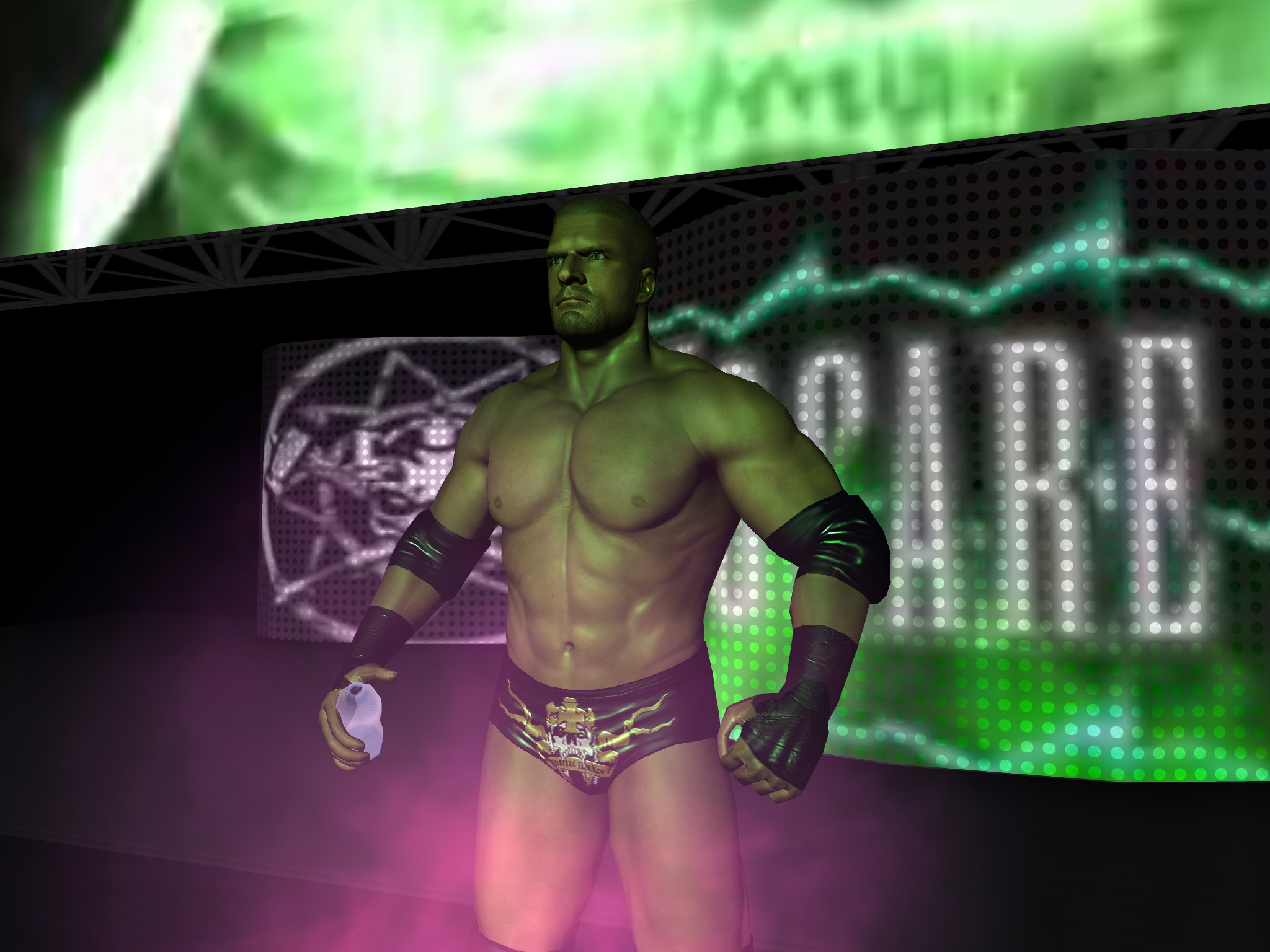 You can take your created Superstar into the expanded Career mode where you can earn attribute points to upgrade your stats through a variety of Goals laid out by the King of Kings himself, Triple H. From beating specific opponents to executing precise moves during your matches, it's an engaging way to play as you're encouraged to try different methods and playstyles. As a fresh-faced created rookie, you'll be working your way up through Raw and Smackdown in hopes of finishing Career mode with a huge Respect rating. Doing so earns you a legendary spot in the Hall of Fame.

Just looking for a quick match in-between the daily grind? The game has you covered with a Quickplay option, where you'll be whisked away into an immediate match with two randomly picked Superstars. It's an invaluable feature for mobile that turns any boring gap in your day into something to look forward to – more time to play 2K15 Mobile.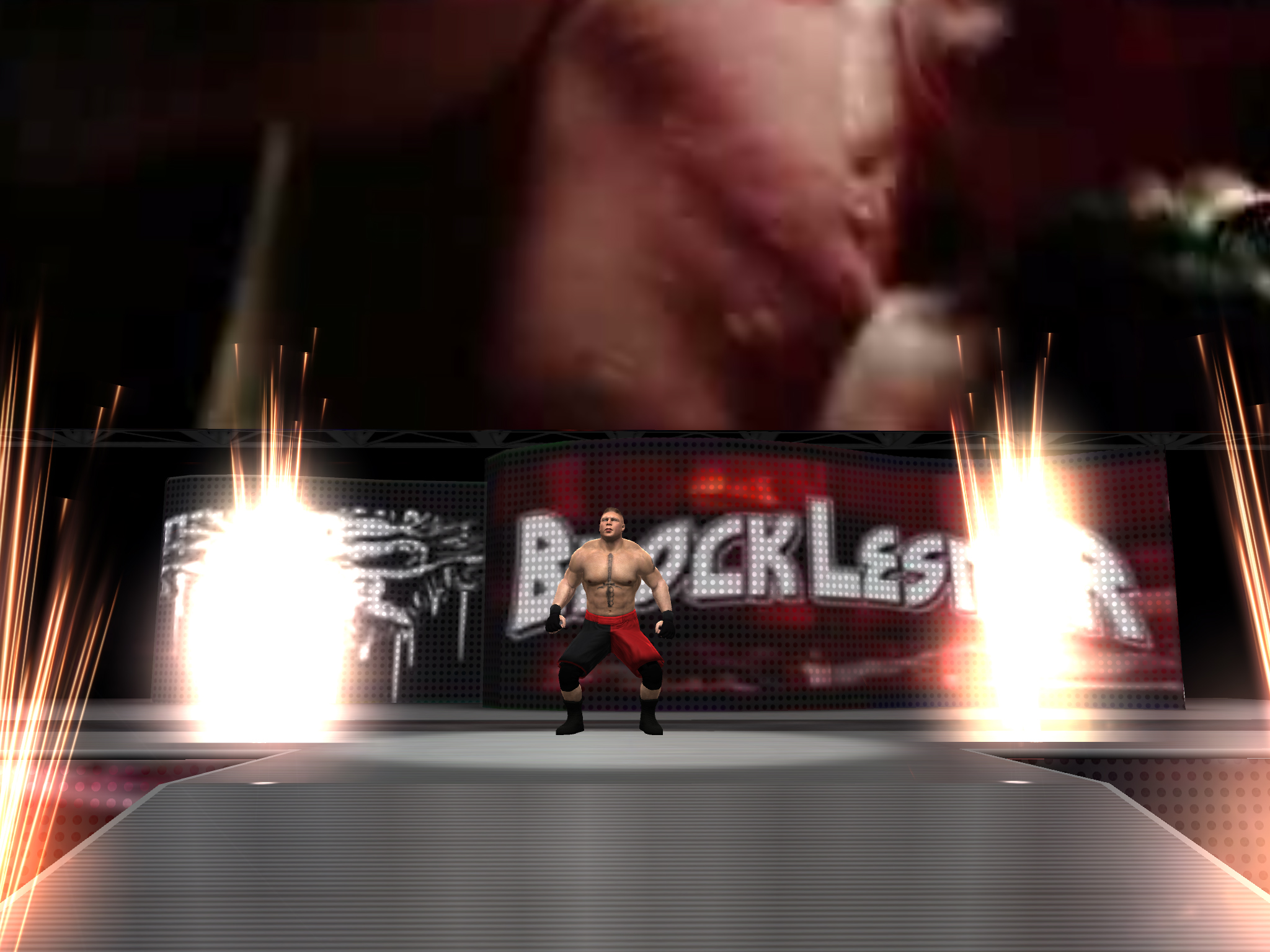 You've asked for it, and 2K has delivered on all fronts. At $7.99, WWE 2K15 for mobile provides immense value to anybody wishing they could take their console experience with them wherever they are or for newer players looking to join the WWE Games Universe. For the price of a footlong sandwich (even less after taxes!), you'll finally have a truly authentic version of WWE 2K15 for your mobile device. With the great list of unlockables, easy controls, beautiful visuals, slick presentation and addicting Career mode and Multiplayer, you'll wish your morning commute and doctor's office waits were longer! Of course, we're HustleTweeting about WWE 2K15 and we invite you to join the conversation following The Heyman Hustle on Twitter HERE! You can also post your thoughts on our Facebook page HERE! If you feel compelled to write us, please do so at HustleOnCrave (at) Gmail.com
BTW, we are kicking ass with our YouTube Channel which features such amazing videos as BRUTAL WWE MOVES: THE REVENGE … #HustleBootyTempTats SUPER MODEL OF THE YEAR ELLIE GONSALVES … BEHIND THE SCENES with BROCK LESNAR … MISSY HYATT's SEX CONFESSIONS … and never to be outdone, COCO DISCUSSES "THE STROKE!"

We are, indeed, on MySpace but we've neglected our account for years … and if you're looking for our Friendster account, GFY!

WE HERE AT THE HEYMAN HUSTLE HAVE ENSLAVED HIGHLY TRAINED
MONKEYS TO IGNORE THE FACT THEY ARE OVERWORKED AND UNDERPAID,
ALL IN THE NAME OF SCOURING THE WORLD WIDE WEB TO FIND THE FIFTEEN
MOST PROVOCATIVE STORIES ON THE INTERNET. ALL FOR YOU. NO ONE ELSE
BUT YOU. JUST YOU. AND ALL YOU NEED TO DO IS PICK WHICH PIC TO CLICK!