Robert Downey Jr walks out on a disrespectful interviewer … and the media gets it all wrong!
The media blew it big time in the reporting of Robert Downey Jr walking out on a British reporter who was clearly looking to make headlines with his out-of-context questions designed to make the reporter the focus of the story rather than the intended subject, the Iron Man character.

"He may be Iron Man but that doesn't mean he has an iron stomach," a tabloid reported, which misses the point by a mile (or a kilometer, whichever part of the world you live in for that saying).

One report stated, "A British reporter's relentless pelting of personal drug and prison questions while interviewing Robert Downey Jr. about his new Avengers film saw the star cut the interview off short and walk off set" a report claimed, which we found funny they didn't accuse Downey of "storming off set" since that would have been equally as inaccurate. Channel 4 News reporter Krishnan Guru-Murthy kept pushing buttons and pushing buttons with an arrogance that could not be contained nor hidden, though the media seems to treat his questioning as if they were in the proper context and just because this particular reporter is not a paparazzi looking for an ambush quote, makes it all ok.

This isn't the reporter's first run-in with an A-Lister. Two years ago, he was confronted by Quentin Tarantino during an interview after pressing the director about whether there's a link between him "enjoying movie violence and enjoying real violence."

Who do YOU think was right (and wrong) in this exchange? We're HustleTweeting about Robert Downey Jr and you're more than welcome to join the conversation by following The Heyman Hustle on Twitter HERE! You can also post your thoughts on our Facebook page HERE! If you feel compelled to write us, please do so at HustleOnCrave (at) Gmail.com
BTW, we are kicking ass with our YouTube Channel which features such amazing videos as BRUTAL WWE MOVES: THE REVENGE … #HustleBootyTempTats SUPER MODEL OF THE YEAR ELLIE GONSALVES … BEHIND THE SCENES with BROCK LESNAR … MISSY HYATT's SEX CONFESSIONS … and never to be outdone, COCO DISCUSSES "THE STROKE!"

We are, indeed, on MySpace but we've neglected our account for years … and if you're looking for our Friendster account, GFY!
CHECK OUT ROBERT DOWNEY JR WALKING OFF ON A BRITISH REPORTER!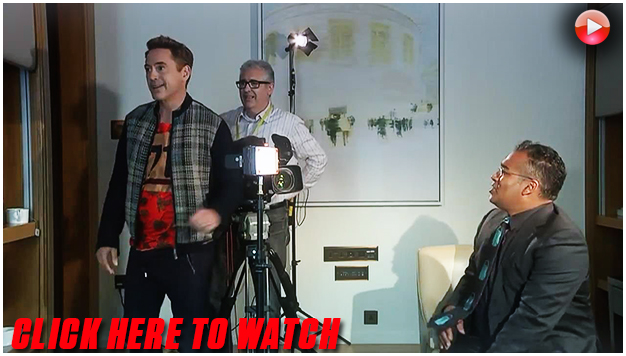 WE HERE AT THE HEYMAN HUSTLE HAVE ENSLAVED HIGHLY TRAINED
MONKEYS TO IGNORE THE FACT THEY ARE OVERWORKED AND UNDERPAID,
ALL IN THE NAME OF SCOURING THE WORLD WIDE WEB TO FIND THE FIFTEEN
MOST PROVOCATIVE STORIES ON THE INTERNET. ALL FOR YOU. NO ONE ELSE
BUT YOU. JUST YOU. AND ALL YOU NEED TO DO IS PICK WHICH PIC TO CLICK!