As we rapidly approach the nerve-racking "night before the fight," video game company THQ has produced a video-game-world exclusive preview of the biggest pay per view event of 2010!
This Saturday night, UFC Heavyweight Champion Brock Lesnar will step into the Octagon against the 12-0 undefeated Interim Champion Shane Carwin. The winner will emerge as the Undisputed Heavyweight Champion of the World. It is being billed, and with good reason, as The Biggest Title Match in History.
Lesnar is back. Carwin, as the advertising campaigned promised, is waiting for him. Only one man can be declared the winner. Will that man be Brock Lesnar, the controversial former pro wrestling champion whose NCAA Division I Heavyweight Championship in 2000 has received far more acclaim than Carwin's 1999 NCAA Division II Heavyweight Championship? Or will it be Shane Carwin, the middle class working man from Greeley, Colorado? The stakes are, well, the Ultimate.

Who will win?

Who will lose?

THQ takes a look.

CLICK HERE FOR THE WORLD PREMIERE OF THE THQ
"UFC UNDISPUTED" EXCLUSIVE PREVIEW OF THE
BIGGEST PAY PER VIEW MAIN EVENT OF 2010!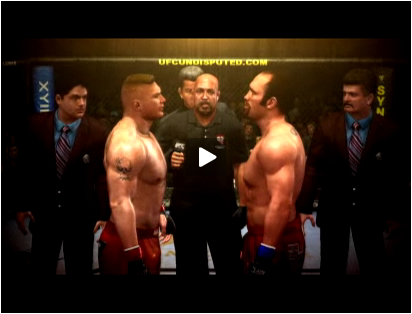 THE HEYMAN HUSTLE'S VERY OWN TRAINED MONKEYS ARE PROUD
TO PRESENT THE TOP 15 STORIES OF THE DAY, ALL CONVENIENTLY
LINKED HERE FOR YOUR REVIEW. NO NEED TO SURF THE WEB, WE
DID ALL THE HARD WORK FOR YOU. JUST PICK A PIC AND CLICK!