He did it again. Our very own Hustler De Tuti Hustlers Paul Heyman walked into our office last summer and said "Get ready to pop some tags!" We had no idea how on point he was regarding Macklemore and Ryan Lewis' release of "Thrift Shop"
You'd think we'd learn.
Our very own Hustler De Tuti Hustlers Paul Heyman came into the offices of THE LOOKING4LARRY AGENCY (parent company of THE HEYMAN HUSTLE) and couldn't stop quoting a song. He had a preview of the new release, and boldly predicted "this is gonna be HUGE!" And just like he did so many times before, our boss proved to be a prognosticator of what's going to be The Next Big Thing, as Macklemore and Ryan Lewis' release of "Thrift Shop" is a worldwide phenomenon.

"Thrift Shop" was released as the fifth and final single from Macklemore and Ryan Lewis' collaborative debut studio album entitled "The Heist" on October 8, 2012 and features vocals from Wanz. The song is the first independently-distributed title to top the Billboard Digital Songs since "We Are the World 25 for Haiti" in February 2010. It is also the second independent song in history to achieve the #1 spot on the Billboard Hot 100 chart, nearly 20 years after Lisa Loeb's "Stay (I Missed You)" in 1994.

Not bad for a song about a "Thrift Shop"

Hey, Macklemore! Can we go thrift shopping?
What, what, what, what… [x7]
Bada, badada, badada, bada… [x9]
[Hook:]
I'm gonna pop some tags
Only got twenty dollars in my pocket
I – I – I'm hunting, looking for a come-up
This is fucking awesome
[Verse 1:]
Nah, Walk up to the club like, "What up, I got a big cock!"
I'm so pumped about some shit from the thrift shop
Ice on the fringe, it's so damn frosty
That people like, "Damn! That's a cold ass honkey."
Rollin' in, hella deep, headin' to the mezzanine,
Dressed in all pink, 'cept my gator shoes, those are green
Draped in a leopard mink, girls standin' next to me
Probably shoulda washed this, smells like R. Kelly's sheets
(Piiisssssss)
But shit, it was ninety-nine cents! (Bag it)
Coppin' it, washin' it, 'bout to go and get some compliments
Passin' up on those moccasins someone else's been walkin' in
But me and grungy fuckin it man
I am stuntin' and flossin' and
Savin' my money and I'm hella happy that's a bargain, bitch
I'ma take your grandpa's style, I'ma take your grandpa's style,
No for real – ask your grandpa – can I have his hand-me-downs? (Thank you)
Velour jumpsuit and some house slippers
Dookie brown leather jacket that I found diggin'
They had a broken keyboard, I bought a broken keyboard
I bought a skeet blanket, then I bought a kneeboard
Hello, hello, my ace man, my Mello
John Wayne ain't got nothing on my fringe game, hell no
I could take some Pro Wings, make them cool, sell those
The sneaker heads would be like "Aw, he got the Velcros"
[Hook x2]
[Verse 2:]
What you know about rockin' a wolf on your noggin?
What you knowin' about wearin' a fur fox skin?
I'm digging, I'm digging, I'm searching right through that luggage
One man's trash, that's another man's come-up
Thank your granddad for donating that plaid button-up shirt
'Cause right now I'm up in here stuntin'
I'm at the Goodwill, you can find me in the (Uptons)
I'm not, I'm not sick of searchin' in that section (Uptons)
Your grammy, your aunty, your momma, your mammy
I'll take those flannel zebra jammies, second-hand, I rock that motherfucker
The built-in onesie with the socks on that motherfucker
I hit the party and they stop in that motherfucker
They be like, "Oh, that Gucci – that's hella tight."
I'm like, "Yo – that's fifty dollars for a T-shirt."
Limited edition, let's do some simple addition
Fifty dollars for a T-shirt – that's just some ignorant bitch (shit)
I call that getting swindled and pimped (shit)
I call that getting tricked by a business
That shirt's hella dough
And having the same one as six other people in this club is a hella don't
Peep game, come take a look through my telescope
Trying to get girls from a brand? Man you hella won't
Man you hella won't
(Goodwill… poppin' tags… yeah!)
[Hook]
[Bridge: x2]
I wear your granddad's clothes
I look incredible
I'm in this big ass coat
From that thrift shop down the road
[Hook]
Is that your grandma's coat?

Of course, we're HustleTweeting about "Thrift Shop" and you're more than welcome to join the conversation by following us on twitter HERE or write us directly at hustleoncrave@gmail.com Hey, have you checked out the Hustle's Ultra High Quality You Tube Channel, with exclusive videos featuring OUR WORLD EXCLUSIVE WITH MIKE TYSON … BROCK LESNAR'S "HERE COMES THE PAIN" … ICE-T AND COCO's SEX SECRETS … TEEN SENSATION TAYLOR MOMSEN … UFC BAD BOY NICK DIAZ … THE WALKING RIOT MISSY HYATT if you're not subscribing, you're missing something … and by the ways cheapos, it's FREE! Yes, absolutely 100 percent FREE! What are you waiting for? Check it out HERE!
By the way, we're also old school social networkers, so check out our interactive skills on Facebook HERE and even on MySpace HERE. If you're on Friendster, GFY … and have a pleasant tomorrow!

MACKLEMORE AND RYAN LEWIS JOIN WANZ AT THE "THRIFT SHOP"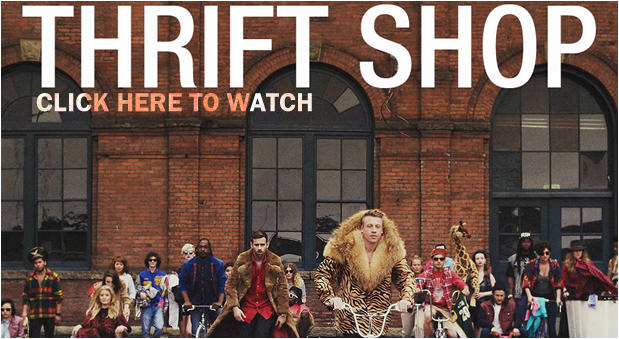 WE HERE AT THE HEYMAN HUSTLE HAVE ENSLAVED HIGHLY TRAINED
MONKEYS TO IGNORE THE FACT THEY ARE OVERWORKED AND UNDERPAID,
ALL IN THE NAME OF SCOURING THE WORLD WIDE WEB TO FIND THE FIFTEEN
MOST PROVOCATIVE STORIES ON THE INTERNET. ALL FOR YOU. NO ONE ELSE
BUT YOU. JUST YOU. AND ALL YOU NEED TO DO IS PICK WHICH PIC TO CLICK!