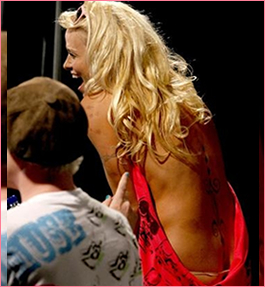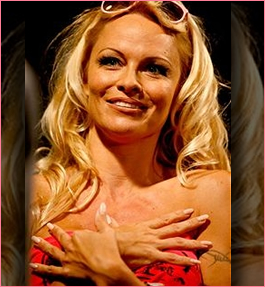 THE HEYMAN HUSTLE is your source for full coverage of Pam Anderson's controversial trip to Auckland, New Zealand … and the media hysteria caused by the Baywatch Babe's hyper-sexual personality.
Pammy appeared at New Zealand's Fashion Week to promote her new environmentally-friendly (WTF does that mean?) brand, A*Muse.
Get it? A muse, as if she's the guiding, inspirational light in your life… and also "amuse," as in "hah hah, that's funny."
The buxom blonde bombshell appeared with NY fashion designer Richie Rich, who continues to expand outside his Heatherette label, which he and Traver Rains made famous.
We have the newscast from New Zealand of Pammy's exploits, which you can check out HERE
We also have the entire press conference, which includes Pam holding up her scarf/"dress," and enjoying a "strangely erotic" (as she described it) moment with a local. You can check that out HERE
And of course we have a ton of pics from the event, which you can check out simply by clicking on the thumbnails below.
To See The Entire Uncensored Gallery of
Pam Anderson's Wild Fashion Show in New Zealand,
Click on the Pics Below!