The Undefeated 6'9" Battlin' Brit Wins Via Unanimous Decision!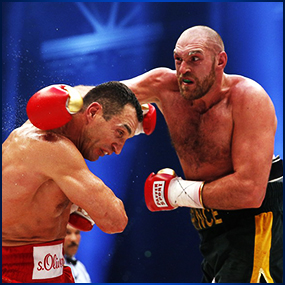 The Undefeated 6'9" Battlin' Brit Wins Via Unanimous Decision!
There's a new heavyweight champion in boxing, and it's Tyson Fury. The 27 year old slugger from the rough-and-tumble city of Manchester, UK used his reach advantage to score a unanimous victory over Wladimir Klitschko, 115-112, 115-112, 116-111 on the judges' scorecards, and is now recognized as the WBA, IBF and WBO champion. The title change happened at the at Esprit Arena in Dusseldorf, Germany, ending Klitschko's 22 fight winning streak.
"This is a dream come true," said an emotional Fury, who broke down in tears in the ring after the fight. "We worked so hard for this. I've done it. It's hard to come to foreign countries and get decisions. It just means so much to me to come here and get the decision."
Then, as Fury has often done, he broke into song, this time Aerosmith's "I Don't Want to Miss a Thing" to his wife.
Klitschko (64-4, 54 KOs) was the heavy favorite to retain the title, but from the outset, Fury (25-0, 18 KOs) was putting in more work. Although many of the rounds were close, he appeared to edge most of them.
Klitschko did not quarrel with the decision.
"Tyson was the faster and better man tonight," Klitschko said. "I felt quite comfortable in the first six rounds, but I was astonished that Tyson was so fast in the second half as well. I couldn't throw my right hand because the advantage was the longer distance he had."
The fight was initially scheduled to take place October 24, also in Dusseldorf, but it was postponed after Klitschko suffered a tear in his left calf. Fury accused Klitschko of faking the injury and claiming he needed more time to prepare. Then, as is often the case in such a big fight, there was gamesmanship as the fight grew closer. The camps argued over the gloves and the kind of ring canvas during fight week, and then Klitschko had his hands wrapped without a representative of Fury in the dressing room to observe, and he was forced to have them rewrapped with a representative present.
Fury ended one of boxing's most historic title reigns. The fight was Klitschko's 28th appearance (25-3) over two title reigns in a heavyweight world title fight, breaking the division record he shared with Joe Louis.
Klitschko, who had not lost in 11½ years, was also making his 19th title defense. His 18 consecutive successful defenses are third most in division history, behind only Louis (25, the record for any weight class) and Larry Holmes (20). With a title reign that lasted 9½ years, Klitschko's was the second longest in division history behind Louis, who held the title for more than 11 years.
Klitschko's place in history and all the gaudy statistics never bothered Fury, whose confidence was obvious in the leadup to the fight, even though Klitschko, the 1996 Olympic super heavyweight gold medalist, owned the power and skill advantages. He also had the vast majority of the crowd behind him, but Fury never cared about any of that.
"I told the world I would beat him," Fury said. "And I did."
Of course, we're HustleTweeting about Tyson Fury, and you're more than welcome to join the conversation by following the Hustle on Twitter HERE or write to us directly at hustleoncrave@gmail.com Hey, have you checked out the Hustle's Ultra High Quality You Tube Channel, with exclusive videos featuring the #HUSTLEBOOTYTEMPTATS SUPERMODEL OF THE YEAR … OUR WORLD EXCLUSIVE WITH MIKE TYSON … BROCK LESNAR'S "HERE COMES THE PAIN" … ICE-T AND COCO's SEX SECRETS … MMA BAD BOY NICK DIAZ … the list goes on and on, so if you're not subscribing, you're missing something … and by the ways cheapos, it's FREE! Yes, absolutely 100 percent FREE! What are you waiting for? Check it out HERE!
By the way, we're also old school social networkers, so check out our interactive skills on Facebook HERE and even on MySpace HERE. If you're on Friendster, GFY … and have a pleasant tomorrow!

TYSON FURY WINS WORLD TITLE … SINGS TO HIS WIFE!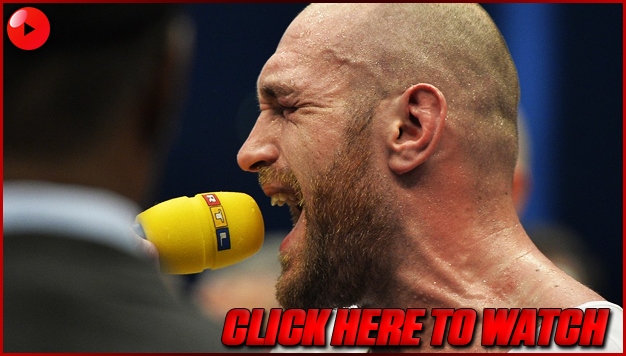 WE HERE AT THE HEYMAN HUSTLE HAVE ENSLAVED HIGHLY TRAINED
MONKEYS TO IGNORE THE FACT THEY ARE OVERWORKED AND UNDERPAID,
ALL IN THE NAME OF SCOURING THE WORLD WIDE WEB TO FIND THE FIFTEEN
MOST PROVOCATIVE STORIES ON THE INTERNET. ALL FOR YOU. NO ONE ELSE
BUT YOU. JUST YOU. AND ALL YOU NEED TO DO IS PICK WHICH PIC TO CLICK!