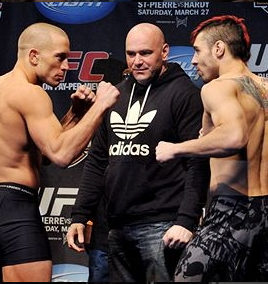 THE HEYMAN HUSTLE continues its coverage of UFC 111 weekend, live from the Prudential Center in Newark, New Jersey. In the double main event, Brock Lesnar's number one nemesis Frank Mir will oppose Shane Carwin for the Interim Heavyweight Championship. The winner will face Lesnar to unify the titles this summer, provided the winner hasn't damaged himself in victory, and also that Lesnar's health continues to hold up.

CLICK HERE TO SEE PHOTOS OF BROCK LESNAR AT THE UFC THQ VIDEO GAME EVENT IN NYC!

CLICK HERE TO SEE PHOTOS FROM THE UFC 111 PRESS CONFERENCE!

In the fight that got billing over Mir vs Carwin, UFC Welterweight Champion Georges St Pierre will take on the very capable Dan Hardy. While many experts think GSP is simply unbeatable, Hardy is determined to prove them wrong, and has awesome knockout power to back up his prediction of an upset victory.
CLICK ON THE PHOTOS BELOW TO SEE THE ENTIRE
GALLERY FROM THE UFC 111 WEIGH-INS IN NEWARK, NJ!
---
LET'S SEE, WHAT'S GOING ON THIS WEEKEND?
FRANK MIR AND SHANE CARWIN WILL FIGHT IN NEWARK,
WITH THE WINNER FACING BROCK LESNAR IN JULY AS UFC 111
HITS THE NORTHEAST. IT'S WRESTLEMANIA WEEKEND. HEY, HAPPY
PASSOVER. JEESH. SO MANY THINGS, SO LITTLE TIME. DONT WORRY
ABOUT SURFING THE WEB. WE GOTCHA COVERED. ALL YOU NEED
TO DO IS CHECK OUT THE MEDIA WATCH BELOW, PICK A PIC AND CLICK!