UFC Heavyweight Champion Brock Lesnar explained the differences between himself and the 12-0 undefeated UFC Interim Champion Shane Carwin this morning on ESPN Sports Center.
"I am a Division I National Champion, Shane Carwin isn't," Brock said with a smile (but, according to our own Hustler De Tuti Hustlers Paul Heyman, who is exclusively embedded in the Lesnar Camp this week, Brock said this quite seriously, too), "and I am the UFC Heavyweight Champion … and Shane Carwin isn't that, either."

CLICK HERE FOR THE OFFICIAL BROCK LESNAR UFC 116 "WALKOUT" T-SHIRT!

CLICK HERE TO READ PAUL HEYMAN DECLARE BROCK IS A "CARWIN EATING CARNIVORE!"

CLICK ON THE VIDEO BELOW TO SEE
BROCK LESNAR ON ESPN SPORTS CENTER!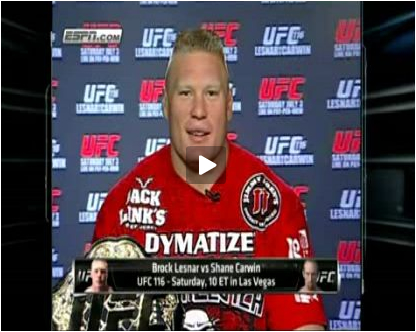 THE HEYMAN HUSTLE'S VERY OWN TRAINED MONKEYS ARE PROUD
TO PRESENT THE TOP 15 STORIES OF THE DAY, ALL CONVENIENTLY
LINKED HERE FOR YOUR REVIEW. NO NEED TO SURF THE WEB, WE
DID ALL THE HARD WORK FOR YOU. JUST PICK A PIC AND CLICK!