No matter what the result will end up being for the Yoshihiro Akiyama vs Chris Leben fight this Saturday night at UFC 116, count on one thing: controversy will reign supreme. 
The trouble began when Akiyama's original opponent, Wanderlei "The Axe Murderer" Silva was forced to pull out of the fight due to an untimely injury suffered during training. UFC immediately sprung into action and named Leben as the replacement. Akiyama was not happy about fighting Leben on such short notice.
Akiyama went on the offensive, telling a Korean MMA blog "I am not pleased with the change. There are just 10 days left until the contest for me to determine (Chris Leben's) threats and the time is insufficient to establish a tailored game plan. Leben is also not as high-profile as (Wanderlei) Silva and that does not help me. If there is to be a replacement, I was hoping for a big name. I spent one year preparing hard for this fight and this news has come as a big disappointment. My motivation has waned."
However, late Friday afternoon, the matter was settled and UFC announced the new matchup was official. Leben, upon hearing the news, launched an offensive attack of his own.
"I think he's basically a little slower version of the guy I just fought," Leben stated, referring to his victory just last week over Aaron Simpson, "He's an awesome judo player, he's got fast kicks, but I don't think he's got near the wrestling that Aaron Simpson has and I don't think he's got knockout power. But it's a great fight and an opportunity I couldn't pass up."
The fight is positioned as the semi main event this Saturday night, July 3rd from the MGM Grand Garden Arena underneath the Heavyweight Title Unification Match between UFC Champion BROCK LESNAR and Interim Champion Shane Carwin. 

CLICK ON THE VIDEO BELOW FOR A PREVIEW OF THE
BROCK LESNAR VS SHANE CARWIN UFC 116 MAIN EVENT!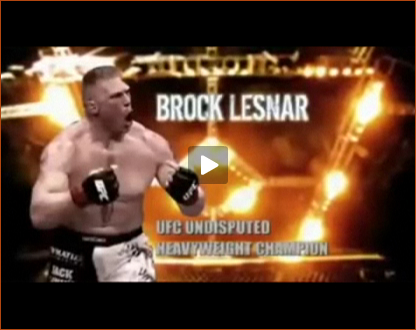 THE HEYMAN HUSTLE'S VERY OWN TRAINED MONKEYS ARE PROUD
TO PRESENT THE TOP 15 STORIES OF THE DAY, ALL CONVENIENTLY
LINKED HERE FOR YOUR REVIEW. NO NEED TO SURF THE WEB, WE
DID ALL THE HARD WORK FOR YOU. JUST PICK A PIC AND CLICK!