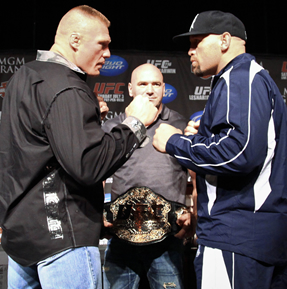 If Dana White Was Offered The Job of Running The LA Lakers … or The NY Yankees … or World Wrestling Entertainment … He'd Have To Turn Down The Job Or Else Take A Pay Cut And Get Used To Slower Momentum-Building. In Other Words, UFC Has Its Shit Together, and It's The Hottest Ticket In Sports!
The UFC 116 Pre-Fight Press Conference took place today at the MGM Grand in Las Vegas, Nevada, as the hottest ticket in Sin City, Ultimate Fighting Championships, kicked the hype into high gear for this Saturday night's collision between Brock Lesnar and Shane Carwin for the Undisputed Heavyweight Championship of the World. There is no doubt in anyone's mind this is the single biggest pay per view event of 2010, and yet UFC has this routine so down pat, it's just another day at the office for the fastest growing sport on the globe today.

Please forgive the fact I'm not writing from a perspective of "here's what happened, here's what was said, here's the facts that support or dispute his/her assertions."

So, just some observations, from my own personal viewpoint, of the press conference.

UFC President Dana White walks in a room, and owns it. Unlike Vince McMahon, though, others are allowed to have some oxygen, too.

Chris Leben is great at selling a fight. He's got awesome charisma, knows that he's there to give the audience a show, and his delivery is awesome. I have always been a Leben fan. I'm a much bigger one today after seeing him operate.

Shane Carwin is a very interesting man. The working class hero. The humble, soft-soften, hard-handed, heavy-fighting 1st Round Terminator is driven NOT to allow Brock Lesnar to be a CARWIN-EATING CARNIVORE. Shane is a scary dude. Seeing him pummel Frank Mir up close was quite the experience. I wouldn't want to get tagged with his hands. Shane does need to learn how to market himself better, but that comes in time. He was under the radar, a guy some people talked about, and then exploded on the scene so quickly. It has to be a whirlwind for him. Carwin needs to say things like "Brock can work out his arms and chest and legs, but he can't work out his jaw … but I plan on tagging it Saturday night." Is he ready to carry a legitimate sports franchise?

Brock Lesnar has everyone guessing now. Is this new SPIRITUAL TRANQUILITY he has found the real deal? Or just a ploy to lure Carwin into a false sense of security, only to have the engineer from Greeley, Colorado surprised by the ferocity of the Lesnar Attack on Saturday night? I can tell you, Brock is in a great place in life. He's about to become a father for the third time, and he's come off his death bed and back into the Octagon to do what he feels is his job in life … provide the best life for his family. He provides, by being the very best at what he does, which is stepping into the Octagon and winning. "People keep asking me, am I going to knock out Shane, make him tap, TKO, decision … my game plan is to win. One way, or another," Brock told me today, "I'm not limited to one way to end this fight."

The thing about UFC that amazes me to no end? Last year, UFC sold more pay per views domestically in the United States than the entire wrestling industry sold on a world wide basis. Imagine what happens as they embark on this global expansion of their brand.

UFC is a juggernaut, and it's only picking up more and more momentum as every day goes by. Today's professionally-run, perfectly-handled press conference was just a mere example of why this organization is experiencing such dramatic growth.

Of course, the other reason is because they build stars. UFC could go an entire year, and never repeat a fighter in a main event … and have a record-breaking year! That's DEPTH, which UFC has, and pro wrestling does not. Neither does boxing.

And that's what separates the sports and sports entertainment brands who are always seeking (if you'll excuse the term The Next Big Thing), and the sport that in this place and time, can truly be called the ULTIMATE!
CLICK ON THE PHOTOS BELOW TO SEE THE HEYMAN HUSTLE'S
360 COVERAGE OF THE BIGGEST PAY PER VIEW EVENT OF 2010!

THE HEYMAN HUSTLE'S VERY OWN TRAINED MONKEYS ARE PROUD
TO PRESENT THE TOP 15 STORIES OF THE DAY, ALL CONVENIENTLY
LINKED HERE FOR YOUR REVIEW. NO NEED TO SURF THE WEB, WE
DID ALL THE HARD WORK FOR YOU. JUST PICK A PIC AND CLICK!