UFC 144 Features a Night Filled with Bad Ass Knockouts, Stunning Upsets, and Controversial Decisions!
Benson Henderson is the new UFC Lightweight Champion of the world after a thrilling five round main event that highlighted a wild night of events for UFC 144 at Saitama Super Arena. Henderson took home the gold with a 49-46, 49-46, 48-47 unanimous decision over Edgar.
But the victory is not without controversy. While many think Henderson deserved the victory, there are also those who believe Edgar won the fight 3 rounds to 2. Count amongst those critics of the decision UFC President Dana White.
"I thought I landed more strikes and I got more takedowns," stated to Joe Rogan in the Octagon after the fight, and the stats agreed with Edgar. The thirty year former champion landed 124 strikes to Henderson's 114, according to CompuStrike. Edgar also completed seven successful takedowns to Henderson's two.
But the twenty eight year old Henderson clearly landed with more power. His attacks left Edgar's face busted up, looking like he had been mauled. Edgar's left eye was nearly completely shut (and by the time this story posts, Edgar will not be seeing out of that eye for a few days).
Edgar controlled the opening nine minutes of the bout and every judge awarded him a 10-9 round score in the first round. He took Henderson down late in the second before a brutal kick to the face deliver from the ground by Henderson changed the entire trajectory of the fight.
The kick was so stunning, it caught everyone (and obviously, Edgar) by surprise.
Henderson said he learned the move from old rival Donald "Cowboy" Cerrone.
"(Cowboy Cerrone) landed that one on me," Henderson stated, "I told him I was going to land that on someone else because it hurt so bad."
Barring an immediate rematch with Edgar, new champion Henderson's WEC rival Anthony Pettis is likely his next opponent. Pettis put on the most dominant performance of the entire UFC 144 event by knocking out Joe Lauzon 81 seconds into their fight with a head kick.
Pettis, of course, landed one of the most famous kicks in MMA history when he beat Henderson by unanimous decision in December, 2010.
UFC 144 also saw an overweight Quinton "Rampage" Jackson drop a unanimous decision (30-27, 30-27, 30-27) to Ryan Bader. For those following Rampage's week (where RAMPAGE VERBALLY BLASTED JOE ROGAN and then ROGAN RESPONDED TO JACKSON), there was no interview with Rogan and Rampage after the fight. Jackson (32-10) missed weight for the fight by six pounds and after the loss stated he had injured his knee and was unable to train properly. Injury aside, Rampage has now lost back to back fights for the fight time in his career and even Dana White is questioning his motivation.
Mark Hunt shock the world again with this victory over the heavily-favored Cheick Kongo. This is Hunt's third victory in a row, and he did it in spectacular fashion, with a TKO over Kongo at 2:11 of the first round.
Jake Shields won a unanimous decision over Yoshihiro Akiyama (30-27, 30-27, 30-27) in a welterweight attraction.
Hatsu Hioki took a unanimous decision win (30-27, 29-28, 29-28) over Bart Palaszewski in a featherweight contest.
Legendary Japanese lightweight and former PRIDE Champion Takanori Gomi scored a second-round TKO victory over Eiji Mitsuoka at 2:21.
One of Japan's most famous fighters likely saw his UFC career come to an end in front of his hometown. Bantamweight Norifumi "Kid" Yamamoto lost his third straight fight when British grappler Vaughan Lee submitted him with an armbar 4:29 into the first round.
Riki Fukuda won a unanimous decision (30-27, 30-27, 29-28) over Steve Cantwell in their middleweight bout.
There's legitimate controversy over Chris Caariaso's unanimous decision victory (29-28, 29-28, 29-28) over Takeya Mizugaki in a bantamweight bout. Cariaso was more aggressive, but spent the majority of each round trapped on his back. The way Cariaso stayed active from the bottom made it a close fight with a controversial result. No one seemed happy with the result.
Japanese featherweight Issei Tamura kicked the event off with an upset knockout victory. Tamura knocked Chinese fighter Tiequan Zhang out cold at 0:32 of the second round with a perfectly placed overhand right.
Of course, we're HustleTweeting about UFC 144, and you're more than welcome to join the conversation by following THE HEYMAN HUSTLE on Twitter HERE or write to us directly at hustleoncrave@gmail.com Hey, have you checked out the Hustle's Ultra High Quality You Tube Channel, with exclusive videos featuring BROCK LESNAR'S "HERE COMES THE PAIN" … ICE-T AND COCO's SEX SECRETS … THE ULTIMATE WELTERWEIGHT BAD ASS NICK DIAZ … CONTROVERSIAL TEEN SENSATION TAYLOR MOMSEN … LEGENDARY MMA PIONEER FRANK SHAMROCK … THE WALKING RIOT MISSY HYATT … if you're not subscribing, you're missing something … and by the ways cheapos, it's FREE! Yes, absolutely 100 percent FREE! What are you waiting for? Check it out HERE!
By the way, we're also old school social networkers, so check out our interactive skills on Facebook HERE and even on MySpace HERE. If you're on Friendster, GFY … and have a pleasant tomorrow!
UFC PRESIDENT DANA WHITE OFFERS HIS OPINION
ON THE FRANKIE EDGAR VS BENDON HENDERSON MAIN EVENT FROM UFC 144 TO ARIEL HELWANI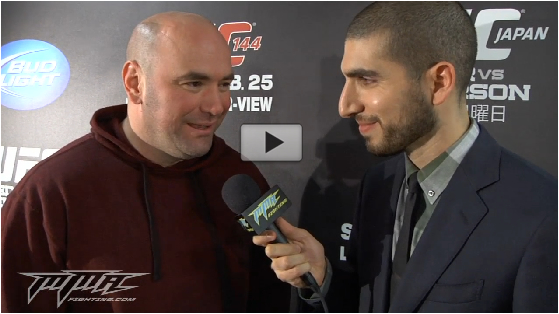 IT'S TIME FOR AN ALL NEW EDITION OF THE HOLLYWOOD CHARLIE
MEDIA WATCH, OUR DAILY TRAVEL ACROSS THE WORLD WIDE WEB.
OUR HIGHLY TRAINED MONKEYS HAVE PICKED OUT THE 15 WILDEST
STORIES FROM THE INTERNET FOR YOUR ASTUTE REVIEW. YOUR PART
IS VERY EASY. ALL YOU NEED TO DO IS PICK A PIC … AND CLICK!