Don't Look For The Week's Biggest Explosion on The Fourth of July. Zuffa Has The Rematch To End All Rematches, and The Fireworks Will Light Up The MMA World This Coming Saturday Night in Sin City!
This coming Saturday night, July 7, 2012, UFC will present what will no doubt go down in history as one of the most storied rematches in mixed martial arts history.
Anderson "The Spider" Silva, the almost-untested Undisputed Middleweight Champion of the World will grant a rematch, with the championship on the line, to the one man who has truly tested him, Chael Sonnen.
The animosity between the two has reached levels that should, all hype aside, give cause for concern. While pro wrestling fan Sonnen has been the one with the trash talking reputation, Silva unleashed a tirade on a media watch that shocked reporters.
Through an interpreter, Silva shouted out, "When we get inside the cage, he's gonna swallow everyone of his teeth. I'm gonna rip tooth from tooth from his mouth. Everyone of them! After I finish, a lot of people are going to be scared about the path that our sport is going to take. I'm dedicated, focus, prepared and, most of all, on a mission to make something that anybody did before at the UFC: break every single bone of Sonnen's body. He's gonna walk out with his face broken, arms broken, legs broken. I'm gonna break him up entirely. He's listening. He's gonna get his ass kicked. He's gonna get a beatdown!"
If you're looking for fireworks, stay home on the 4th of July. Silva vs Sonnen II happens on Saturday. No matter who wins, it's going to be one hell of an explosion in Las Vegas!
Of course, we're HustleTweeting about Silva vs Sonnen II, and you're more than welcome to join the conversation by following the Hustle on Twitter HERE or write to us directly at hustleoncrave@gmail.com Hey, have you checked out the Hustle's Ultra High Quality You Tube Channel, with exclusive videos featuring BROCK LESNAR'S "HERE COMES THE PAIN" … ICE-T AND COCO's SEX SECRETS … THE ULTIMATE WELTERWEIGHT BAD ASS NICK DIAZ … CONTROVERSIAL TEEN SENSATION TAYLOR MOMSEN … LEGENDARY MMA PIONEER FRANK SHAMROCK … THE WALKING RIOT MISSY HYATT … if you're not subscribing, you're missing something … and by the ways cheapos, it's FREE! Yes, absolutely 100 percent FREE! What are you waiting for? Check it out HERE!
By the way, we're also old school social networkers, so check out our interactive skills on Facebook HERE and even on MySpace HERE. If you're on Friendster, GFY … and have a pleasant tomorrow!
CHECK OUT UFC 148 PRIMETIME: COUNTDOWN TO SILVA VS SONNEN II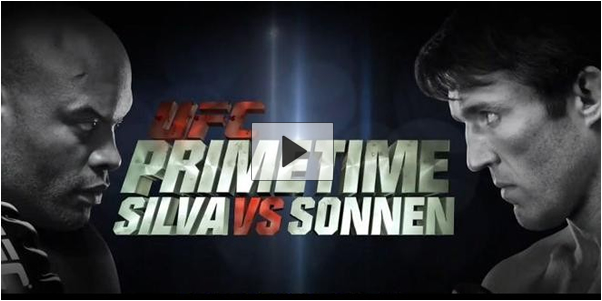 IT'S TIME FOR AN ALL NEW EDITION OF THE HOLLYWOOD CHARLIE
MEDIA WATCH, OUR DAILY TRAVEL ACROSS THE WORLD WIDE WEB.
OUR HIGHLY TRAINED MONKEYS HAVE PICKED OUT THE 15 WILDEST
STORIES FROM THE INTERNET FOR YOUR ASTUTE REVIEW. YOUR PART
IS VERY EASY. ALL YOU NEED TO DO IS PICK A PIC … AND CLICK!