The Welterweight Champion of the World is lured into a heated argument with The Stockton Bad Boy as the media listens in stunned silence during what promised to be an explosive conference call … and boy did it over-deliver!
If you thought there was animosity between UFC Welterweight Champion Georges St-Pierre and former Strikeforce Welterweight Champion Nick Diaz, wait until you get about 24 minutes into the UFC 158 conference call that took place earlier today.
The tension started at the very top, when UFC President Dana White said Nick Diaz was not on the call. Problem number one. Diaz was on the line. From there, both Diaz and GSP professed respect for one another as fighters, but it quickly became apparent Nick Diaz was in a bad mood
"I just think that I should be given the credit that I deserve and that GSP should be given the decorated opponent that he deserves, and I'm hardly that from the fans' perspective," said Diaz. "That makes me pretty angry. I think that Georges is going to appreciate that and I think he knows I'm the right guy to be in this position."
As the call progressed, a reporter asked GSP if he feels he is "pampered," as Diaz has alleged. This is where Diaz went wild. "I hope so, mother fucker!" he yelled. "If I had that much money, I'd be fucking pampering myself the fuck up!"
The normally calm, cool and collected GSP retorted, "Let me tell you something, uneducated foo … I've not always been rich. I started from the bottom and I worked very hard to be where I am right now."
The argument got more and more heated, with the two arguing who actually spoke better English. This is a must-hear conference call, and we have it, in its entirety, for you below!
CLICK HERE TO WATCH NICK DIAZ BEING INTERVIEWED BY OUR VERY OWN HUSTLER DE TUTI HUSTLERS PAUL HEYMAN ON "THE HEYMAN HUSTLE"
CLICK HERE FOR OUR SPECIAL OFFER WHERE YOU CAN ORDER YOUR OFFICIAL NICK DIAZ UFC 158 WALKOUT T-SHIRT!
Of course, we're HustleTweeting about UFC 158 GSP vs Nick Diaz, and you're more than welcome to join the conversation by following us on twitter HERE or write us directly at hustleoncrave@gmail.com Hey, have you checked out the Hustle's Ultra High Quality You Tube Channel, with exclusive videos featuring OUR WORLD EXCLUSIVE WITH MIKE TYSON … BROCK LESNAR'S "HERE COMES THE PAIN" … ICE-T AND COCO's SEX SECRETS … TEEN SENSATION TAYLOR MOMSEN … UFC BAD BOY NICK DIAZ … THE WALKING RIOT MISSY HYATT if you're not subscribing, you're missing something … and by the ways cheapos, it's FREE! Yes, absolutely 100 percent FREE! What are you waiting for? Check it out HERE!
By the way, we're also old school social networkers, so check out our interactive skills on Facebook HERE and even on MySpace HERE. If you're on Friendster, GFY … and have a pleasant tomorrow!
CHECK OUT THE COMPLETELY UNEDITED, UNCENSORED UFC 158
CONFERENCE CALL FEATURING GEORGES ST-PIERRE AND NICK DIAZ!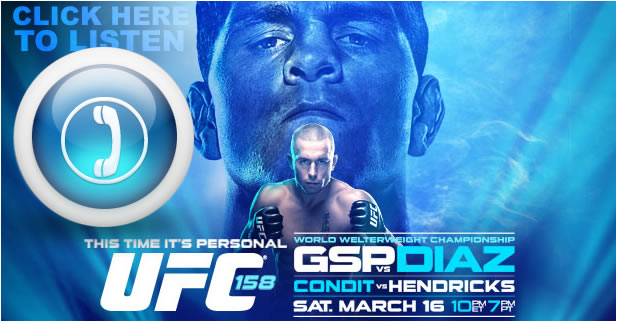 WE HERE AT THE HEYMAN HUSTLE HAVE ENSLAVED HIGHLY TRAINED
MONKEYS TO IGNORE THE FACT THEY ARE OVERWORKED AND UNDERPAID,
ALL IN THE NAME OF SCOURING THE WORLD WIDE WEB TO FIND THE FIFTEEN
MOST PROVOCATIVE STORIES ON THE INTERNET. ALL FOR YOU. NO ONE ELSE
BUT YOU. JUST YOU. AND ALL YOU NEED TO DO IS PICK WHICH PIC TO CLICK!