If the UFC media conference call didn't upset GSP … if the pre-fight press conference wasn't enough … NOW Nick Diaz is going for the jugular with stunning accusations against the Undisputed Welterweight Champion of the World!
Nick Diaz is turning up the heat on Georges St-Pierre like no one has ever dared in UFC history. One several occasions at the UFC PRE-FIGHT PRESS CONFERENCE Diaz insinuated GSP uses performance-enhancing drugs. It was a fine line Diaz was walking, right in front of UFC President Dana White. A line, we might add, Diaz didn't cross.
He crossed it now.
Later in the day, Diaz was interviewed on Toronto's Fan 590 radio station, where he came out blasting about his suspicions regarding GSP's PED usage. "I believe that he's on plenty of steroids and I don't believe they've tested him as well," Diaz alleged. "I don't care what they're saying or marketing to the media. I don't think either of us are going to be tested. And if so, he's probably got a bottle of piss in his pocket. I doubt they're standing over him, making sure he's not on steroids."
Shocked hosts Tim Micallef and Sid Seixeiro asked The Stockton Bad Boy if he really meant what he just said. Diaz went further into his allegations. "Sure, why not?" Diaz lashed out. "Lance Armstrong is on steroids, and it was really a ridiculous thing that he was on steroids, as far as he was concerned."
Diaz has been flagged twice by the Nevada State Athletic Commission. But not for PED failure. Diaz was suspended for having marijuana metabolites in his system. Dana White stated that if Diaz fails another test, UFC may have no other alternative but to cut him. And yet, Diaz doesn't guarantee a clean urine test this time, either.
"Hell no, I'm not guaranteeing anything," Diaz told the hosts. "Last time I was … a nanogram over. So, yeah, I can tell you I did a little better than last time, so if I don't pass the test, I'm sorry. But, you know, I could probably use another year off vacation, you know, it's not like I enjoy this, taking punches to the mouth!"
Diaz wasn't done. "I may not be able to keep fighting for money for a living, but I will always have to fight for my dignity, because that's who I am," Diaz stated. "I will always tell the truth … I'll never sell you a handful of wolf tickets that you're going to go home, feed your family, and poison them, and poison their future. It's not, it's, morally it's just not me. I don't think Georges is a bad guy. I don't. I think he's a good guy, I don't think he deserves anything bad, I think he's a nice guy. I think he just put himself in a stupid position to sell this fight."
Of course, we're HustleTweeting about Nick Diaz vs GSP, and you're more than welcome to join the conversation by following us on twitter HERE or write us directly at hustleoncrave@gmail.com Hey, have you checked out the Hustle's Ultra High Quality You Tube Channel, with exclusive videos featuring OUR WORLD EXCLUSIVE WITH MIKE TYSON … BROCK LESNAR'S "HERE COMES THE PAIN" … ICE-T AND COCO's SEX SECRETS … TEEN SENSATION TAYLOR MOMSEN … UFC BAD BOY NICK DIAZ … THE WALKING RIOT MISSY HYATT if you're not subscribing, you're missing something … and by the ways cheapos, it's FREE! Yes, absolutely 100 percent FREE! What are you waiting for? Check it out HERE!
By the way, we're also old school social networkers, so check out our interactive skills on Facebook HERE and even on MySpace HERE. If you're on Friendster, GFY … and have a pleasant tomorrow!
CHECK OUT THE EXTENDED PREVIEW FOR THIS SATURDAY NIGHT'S
GEORGES ST-PIERRE VS NICK DIAZ WELTERWEIGHT TITLE FIGHT AT UFC 158!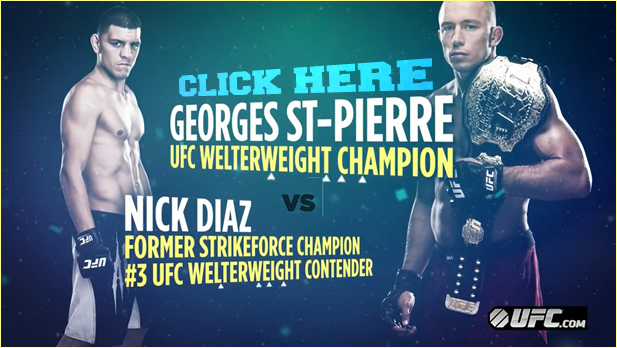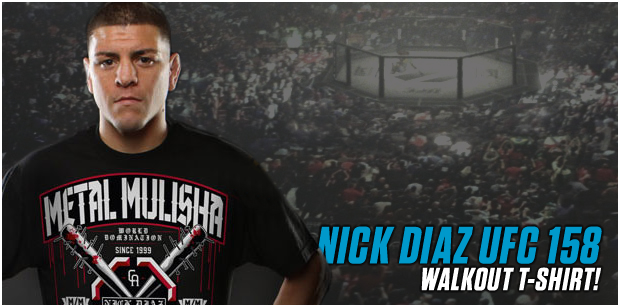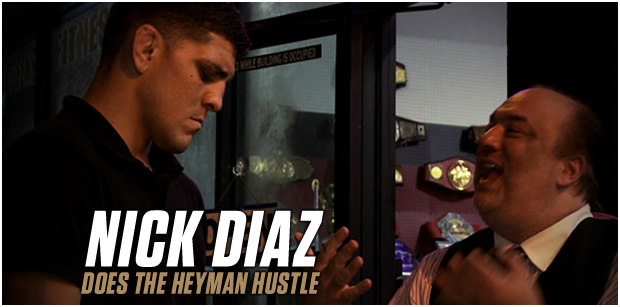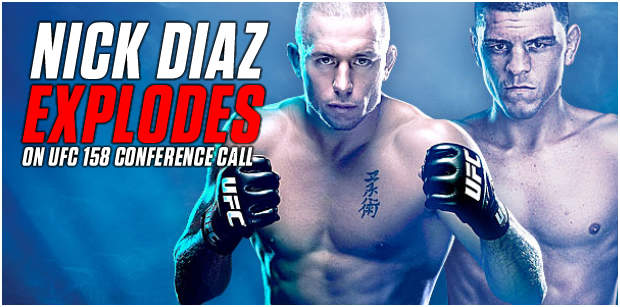 WE HERE AT THE HEYMAN HUSTLE HAVE ENSLAVED HIGHLY TRAINED
MONKEYS TO IGNORE THE FACT THEY ARE OVERWORKED AND UNDERPAID,
ALL IN THE NAME OF SCOURING THE WORLD WIDE WEB TO FIND THE FIFTEEN
MOST PROVOCATIVE STORIES ON THE INTERNET. ALL FOR YOU. NO ONE ELSE
BUT YOU. JUST YOU. AND ALL YOU NEED TO DO IS PICK WHICH PIC TO CLICK!