Not able to defend his title in the main event of his own homecoming, the reigning defending UFC Heavyweight Champion of the World comes out swinging against the concept of the Interim Title!
Get ready for some fireworks.

UFC is in Mexico City. The event was being built around UFC Champion Cain Velasquez's homecoming, defending the Heavyweight Title against Fabricio Werdum. And then disaster struck. Velasquez suffered another injury in training and had to pull out of the fight. Now UFC President Dana White has gone on record, giving Velasquez until March to defend the title or face being stripped of the championship.

"(I'm) just very disappointed in general," Velasquez admitted on Thursday. "Definitely disappointed. It's one of my dreams to fight here, and not being to do it, it sucks. It's kind of bittersweet. I want to be here for the guys that I helped in the show. I want to be here for them and I want to see them succeed. But not being a part of it (is tough). I mean, I always pictured them being here and me being part of it also."

Velasquez will not be able to fight this Saturday at UFC 180 because of a torn MCL and meniscus in his knee. Some felt that Dana White was just being a promoter and hyping the importance of Fabricio Werdum vs Mark Hunt, how the Interim Champion may end up being the Undisputed Champion, but Velasquez seemed upset at the very mention of it.
"It's the interim belt, you know," Velasquez said. "It's the interim belt. We're going to fight for the real one coming up. So I don't think too much into it. When I have my chance to fight, we'll fight for the real one. That's how I view it, because it's the Interim belt. Interim belt, Interim champion. Not thee champion!"
Of course, we're HustleTweeting about Cain Velasquez, and you're more than welcome to join the conversation by following us on twitter HERE or write to us directly at hustleoncrave@gmail.com Hey, have you checked out the Hustle's Ultra High Quality You Tube Channel, with exclusive videos featuring OUR WORLD EXCLUSIVE WITH MIKE TYSON … BROCK LESNAR'S "HERE COMES THE PAIN" … ICE-T AND COCO's SEX SECRETS … MMA BAD BOY NICK DIAZ … the list goes on and on, so if you're not subscribing, you're missing something … and by the ways cheapos, it's FREE! Yes, absolutely 100 percent FREE! What are you waiting for? Check it out HERE!
By the way, we're also old school social networkers, so check out our interactive skills on Facebook HERE and even on MySpace HERE. If you're on Friendster, GFY … and have a pleasant tomorrow!
LOOKING4LARRY PRESENTS FABRICIO WERDUM : LIVE THE MOMENT!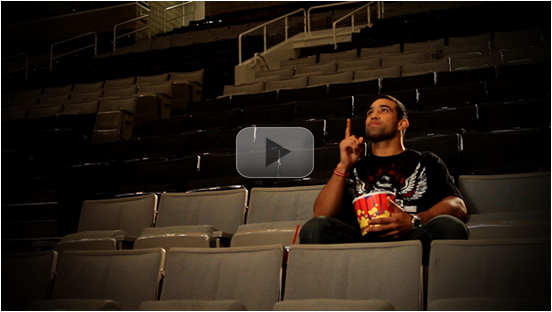 WE HERE AT THE HEYMAN HUSTLE HAVE ENSLAVED HIGHLY TRAINED
MONKEYS TO IGNORE THE FACT THEY ARE OVERWORKED AND UNDERPAID,
ALL IN THE NAME OF SCOURING THE WORLD WIDE WEB TO FIND THE FIFTEEN
MOST PROVOCATIVE STORIES ON THE INTERNET. ALL FOR YOU. NO ONE ELSE
BUT YOU. JUST YOU. AND ALL YOU NEED TO DO IS PICK WHICH PIC TO CLICK!