The Clock Is Ticking As Toronto Gets Ready For The Most Anticipated Welterweight Title Match in Ages!

The anticipation continues to build for UFC 129, which will take place in front of 55,000 live fans at the Rogers Centre in Toronto next Saturday night, April 30th. Episode 2 of "UFC Primetime: St-Pierre vs Shields" will only heighten that anticipation.
In this, the 2nd of 3 installments, the focus is clearly on Jake Shields. Not only does the former Strikeforce standout discuss why he thinks he will beat GSP, but so does trainer Cesar Gracie and Jake's charismatic "mountain man" father!
Jake is also hyped by GSP, and even legendary strategy coach Greg Jackson, who is working for St-Pierre!
Check out the cameos by Strikeforce champions Nick Diaz and Gilbert Melendez, who spar with Shields during the episode.
CLICK HERE FOR NICK DIAZ ON THE 1st EPISODE OF THE 2nd SEASON OF "THE HEYMAN HUSTLE" WITH OUR OWN HUSTLER DE TUTI HUSTLERS PAUL HEYMAN!
CLICK HERE FOR A VERY SPECIAL VIDEO STARRING THE BEST LIGHTWEIGHT IN THE WORLD, GILBERT MELENDEZ!
GSP is seen working on, well, everything. Even gymnastics. And he explains why.
If this doesn't make you want to buy UFC 129, then perhaps THIS, THIS, or THIS is of more interest to you.
Just sayin'!
Hey, we're HustleTweeting about UFC 129, and you're more than welcome to join the conversation by following the Hustle on Twitter HERE or write to us directly at hustleoncrave@gmail.com
You can also subscribe (for FREE, cheapos, absolutely FREE) to our Ultra High Quality YouTube Channel HERE, and don't forget to check out our old school social networking skills by visiting us on Facebook HERE and even on MySpace HERE
Part three of UFC 129: St-Pierre vs Shields Primetime will air next Wednesday, April 27th on SpikeTV at Midnight Eastern/Pacific Time.

CLICK HERE FOR EPISODE 2 OF GSP VS SHIELDS PRIMETIME!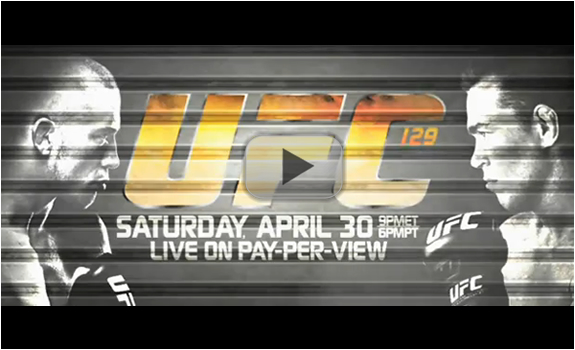 IT'S TIME FOR AN ALL NEW EDITION OF THE HOLLYWOOD CHARLIE
MEDIA WATCH, OUR DAILY TRAVEL ACROSS THE WORLD WIDE WEB.
OUR HIGHLY TRAINED MONKEYS HAVE PICKED OUT THE 15 WILDEST
STORIES FROM THE INTERNET FOR YOUR ASTUTE REVIEW. YOUR PART
IS VERY EASY. ALL YOU NEED TO DO IS PICK A PIC … AND CLICK!