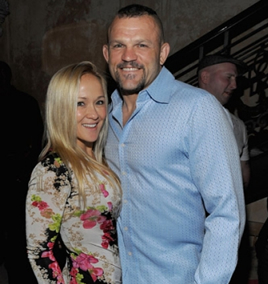 With UFC 111 less than 24 hours away, Zuffa execs Dana White and The Fertitta Brothers threw a private bash at the uber-trendy "632 on Hudson" in the Meat Packing District of New York City. The party was a huge success, as UFC Undisputed Heavyweight Champion was there along with our own Hustler De Tuti Hustlers Paul Heyman, Chuck Liddell and his naked workout partner, Stephan Bonner, and of course Dana White and The Fertittas.
CLICK HERE FOR EXCLUSIVE PHOTOS FROM THE UFC THQ VIDEO GAME EVENT IN NYC

CLICK HERE FOR EXCLUSIVE PHOTOS FROM THE UFC 111 WEIGH-INS

CLICK HERE FOR MIKE HUCKABEE'S BLOG ON BROCK LESNAR'S HEALTH CARE COMMENTS

CLICK HERE FOR AWESOME PICS OF FORMER OCTAGON GIRL EDITH LABELLE
CLICK ON THE PHOTOS BELOW TO SEE THE ENTIRE
GALLERY FROM THE UFC PRIVATE PARTY IN NEW YORK CITY!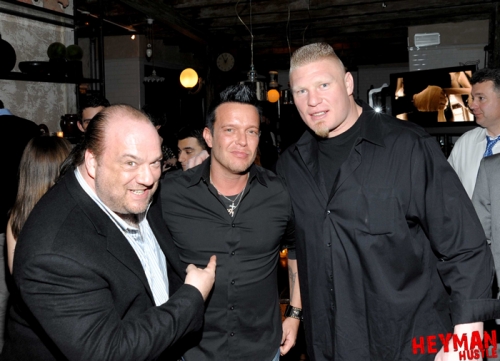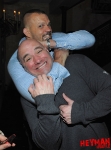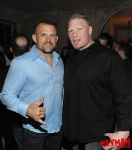 ---
LET'S SEE, WHAT'S GOING ON THIS WEEKEND?
FRANK MIR AND SHANE CARWIN WILL FIGHT IN NEWARK,
WITH THE WINNER FACING BROCK LESNAR IN JULY AS UFC 111
HITS THE NORTHEAST. IT'S WRESTLEMANIA WEEKEND. HEY, HAPPY
PASSOVER. JEESH. SO MANY THINGS, SO LITTLE TIME. DONT WORRY
ABOUT SURFING THE WEB. WE GOTCHA COVERED. ALL YOU NEED
TO DO IS CHECK OUT THE MEDIA WATCH BELOW, PICK A PIC AND CLICK!