UPDATED WEDNESDAY APRIL 9, 2014 – 2:45 am Eastern Time
Details are still very sketchy, but it has been confirmed that the former Jim Hellwig, known the world over as The Ultimate Warrior has passed away at the age of 54. WWE reported the passing to its fan base earlier this evening, and then TMZ Warrior collapsed outside an Arizona hotel while walking to his car on Tuesday. He was soon thereafter pronounced dead at a nearby hospital. Warrior's death comes just after being inducted into the WWE Hall of Fame before this past weekend'd Wrestlemania XXX event in New Orleans. He appeared on "Monday Night Raw" this week for the first time since July 1996. The Ultimate Warrior is survived by his wife Dana and his two daughters.
Of course, we're HustleTweeting about The Ultimate Warrior, and you're more than welcome join the conversation (and you have to realize, this is one ridiculously lively conversation) by writing us on twitter HERE or write to us directly at hustleoncrave@gmail.com  Hey, have you checked out the Hustle's Ultra High Quality You Tube Channel, with exclusive videos featuring OUR WORLD EXCLUSIVE WITH MIKE TYSON … BROCK LESNAR'S "HERE COMES THE PAIN" … ICE-T AND COCO's SEX SECRETS … MMA BAD BOY NICK DIAZ … the list goes on and on, so if you're not subscribing, you're missing something … and by the ways cheapos, it's FREE! Yes, absolutely 100 percent FREE! What are you waiting for? Check it out HERE!
By the way, we're also old school social networkers, so check out our interactive skills on Facebook HERE and even on MySpace HERE. If you're on Friendster, GFY … and have a pleasant tomorrow!
THE ULTIMATE WARRIOR APPEARS ON MONDAY NIGHT RAW!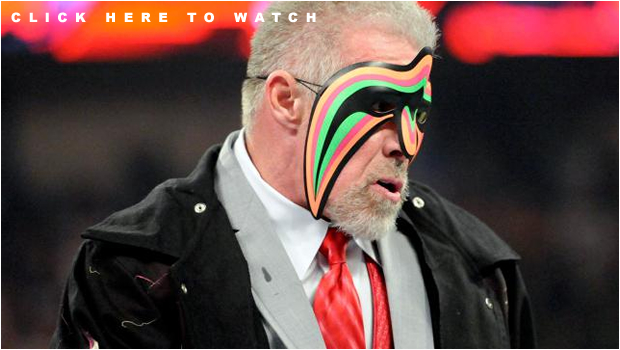 WE HERE AT THE HEYMAN HUSTLE HAVE ENSLAVED HIGHLY TRAINED
MONKEYS TO IGNORE THE FACT THEY ARE OVERWORKED AND UNDERPAID,
ALL IN THE NAME OF SCOURING THE WORLD WIDE WEB TO FIND THE FIFTEEN
MOST PROVOCATIVE STORIES ON THE INTERNET. ALL FOR YOU. NO ONE ELSE
BUT YOU.  JUST YOU. AND ALL YOU NEED TO DO  IS PICK WHICH PIC TO CLICK!