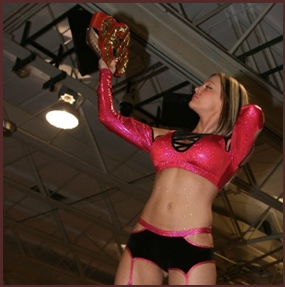 Hustle photographer Bob Mulrenin captured these photos of TNA Knockout Velvet Sky of The Beautiful People at a recent independent show in Queens, New York. The former Northeast independent star, who was once billed as Talia Madison, was trained by ECW Original Jason Knight in Waterbury, Connecticut, and has become one of the biggest female stars in the pro wrestling industry since then. Velvet will be appearing along with the rest of the TNA roster on TNA iMPACT! this Thursday at 9pm Eastern time on SpikeTV.
CLICK ON THE PHOTOS BELOW TO SEE THE ENTIRE
GALLERY OF TNA KNOCKOUT VELVET SKY

THE HOLLYWOOD CHARLIE MEDIA WATCH IS PRESENTED TODAY
IN HARDCORE HUSTLEVISION, SERVING YOUR EXTREME WEB
NEEDS SINCE 2009. WOW. THAT'S A LOT OF EXPERIENCE, ISN'T
IT? IT ISN'T? DAMN. OK, GIVE US A BREAK. COME ON, OUR TEAM
OF HIGHLY TRAINED MONKEYS WORKED HARD ON THIS. IT'S NOT
LIKE YOUR PART IS ALL THAT HARD. JUST PICK A PIC AND CLICK!