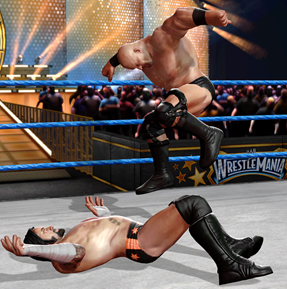 HUSTLE EXCLUSIVE!

When THQ's WWE ALL STARS VIDEO GAME was released, THE HEYMAN HUSTLE arranged for an exclusive matchup between STONE COLD STEVE AUSTIN and CM Punk to promote the "2 Generations, 1 Ring" concept for the video game, which is available on the Xbox 360® video game and entertainment system from Microsoft, PlayStation®3 system, PlayStation®2 system, PSP® (PlayStation®Portable) system and the Wii™ system from Nintendo.
We had no idea THE TROUBLE WE STARTED BETWEEN STEVE AUSTIN AND CM PUNK!
Continuing in our campaign for the video game, we offered FREE AUSTIN VS PUNK WALLPAPERS (which are still available to you, exclusively from the Hustle), but that only stoked the fire between the two big time WWE superstars. AUSTIN WAS EVEN FILMED CUTTING A SCATHING PROMO ON CM PUNK AT THQ HEADQUARTERS!
Austin even tweeted to our own Hustler De Tuti Hustlers Paul Heyman that he wanted a rematch with Punk … so with the cooperation (and the threat of an angry visit from Austin) of our friends at THQ, we've arranged The Rematch of the Century between Stone Cold Steve Austin and CM Punk!
So, this brings us to the question of the day, all over again. What would happen if the beer-gizzling, ass-kicking, "Don't Trust Anyone" Stone Cold Steve Austin and the Straight Edge Superstar himself, CM Punk ever did met in the middle of a WWE ring? We're HustleTweeting about the fantasy rematch of Austin vs Punk right now, and you're more than welcome to join the conversation b Following THE HEYMAN HUSTLE on Twitter HERE or write to us at hustleoncrave@gmail.com
You can also subscribe (for FREE, cheapos, absolutely FREE) to our Ultra High Quality YouTube Channel HERE, and don't forget to check out our old school social networking skills by visiting us on Facebook HERE and even on MySpace HERE
CLICK ON THE PICS BELOW FOR EXCLUSIVE SCREEN SHOTS OF
WHAT MIGHT HAPPEN IF STONE COLD STEVE AUSTIN AND CM PUNK
EVER WRESTLED IN MATCH WITH "EXTREME RULES!"


HERE IT IS … THE VIDEO YOU'VE BEEN WAITING FOR … THE THQ
WWE ALL STARS VIDEO GAME REMATCH BETWEEN STONE COLD
STEVE AUSTIN AND THE "STRAIGHT EDGE SUPERSTAR" CM PUNK!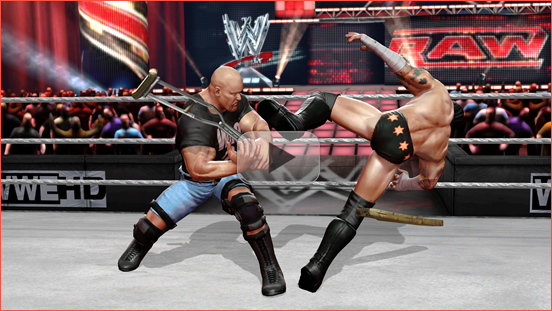 IT'S TIME FOR AN ALL NEW EDITION OF THE HOLLYWOOD CHARLIE
MEDIA WATCH, OUR DAILY TRAVEL ACROSS THE WORLD WIDE WEB.
OUR HIGHLY TRAINED MONKEYS HAVE PICKED OUT THE 15 WILDEST
STORIES FROM THE INTERNET FOR YOUR ASTUTE REVIEW. YOUR PART
IS VERY EASY. ALL YOU NEED TO DO IS PICK A PIC … AND CLICK!