The Victoria's Secret Hustle Hottie Lights Up The Month of June!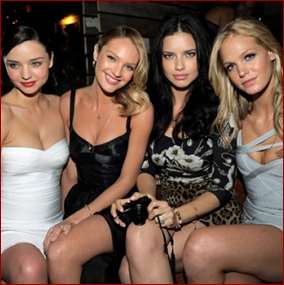 The Victoria's Secret Hustle Hottie Lights Up The Month of June!
Some of you may start noticing a number of changes (which we hope you will consider upgrades) to THE HEYMAN HUSTLE as we enter the month of June, 2011.
And speaking of upgrades, how about the upgrade Miranda Kerr underwent after giving birth to her beautiful baby fathered by our mortal enemy Orlando Bloom?
ALREADY ONE OF THE SEXIEST WOMEN ON THE ENTIRE PLANET, Miranda returned from her birthing experience with A BRAND NEW BUSTY FIGURE HOTTER THAN THE AUSTRALIAN ASPHALT DURING A MAD MAX REMAKE!
So, in honor of our admitted infatuation with the impossibly-beautiful girl from the Outback, we've assigned our overworked underpaid trained monkeys to put together the sexiest media watch in ages, if for no other reason but to reflect our indescribable admiration for Orlando Bloom's baby mama, the sexiest wife in show business, Victoria's Secret's very own Miranda Kerr!
Of course, we're HustleTweeting about Miranda, and you're more than welcome to join the conversation! Follow the Hustle on Twitter HERE or write to us at hustleoncrave@gmail.com
You can also subscribe (for FREE, cheapos, absolutely FREE) to our Ultra High Quality YouTube Channel HERE, and don't forget to check out our old school social networking skills by visiting us on Facebook HERE and even on MySpace HERE
CLICK ON THE PICS BELOW TO SEE THE ENTIRE GALLERY FEATURING
MIRANDA KERR SHOWING OFF HER BRAND NEW FIGURE!

IT'S TIME FOR AN ALL NEW EDITION OF THE HOLLYWOOD CHARLIE
MEDIA WATCH, OUR DAILY TRAVEL ACROSS THE WORLD WIDE WEB.
OUR HIGHLY TRAINED MONKEYS HAVE PICKED OUT THE 15 WILDEST
STORIES FROM THE INTERNET FOR YOUR ASTUTE REVIEW. YOUR PART
IS VERY EASY. ALL YOU NEED TO DO IS PICK A PIC … AND CLICK!