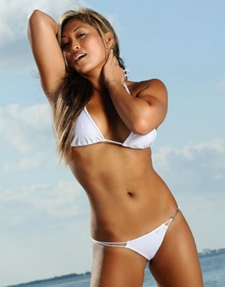 The Former "Savannah" Emerges As One Of The Summer's Hottest Bikini Models!
Angela Fong is a former cheerleader-turned-WWE-Diva whose amazing bikini pictures caught everyone's attention in World Wrestling Entertainment. The gorgeous hot-bodied model was on course for a huge future on either Raw or Smackdown when she was unexpectedly released by the sports entertainment giant.

But Angela Fong wasn't going to just disappear. She immediately resumed her modeling career, and has been traveling back and forth between her hometown of Vancouver British Columbia and her adopted hometown of Tampa Florida, posing all along the way.

As Governor Jesse "The Body" Ventura and our own Hustler De Tuti Hustlers Paul Heyman said in the very 1st episode of THE HEYMAN HUSTLE, "there IS life after wrestling!'

We're HustleTweeting about Angela right now, and you're more than welcome to join the conversation. Don't be left out, let the world know what you think of Angela's photos today by following the Hustle on Twitter HERE

And as long as your promise to behave, you can follow Angela on Twitter as well, all you have to do is check out her page HERE
CLICK ON THE PICS BELOW TO SEE THE ENTIRE GALLERY
FEATURING AWESOME BIKINI PICS OF ANGELA FONG!

THE HEYMAN HUSTLE'S VERY OWN TRAINED MONKEYS ARE PROUD
TO PRESENT THE TOP 15 STORIES OF THE DAY, ALL CONVENIENTLY
LINKED HERE FOR YOUR REVIEW. NO NEED TO SURF THE WEB, WE
DID ALL THE HARD WORK FOR YOU. JUST PICK A PIC AND CLICK!