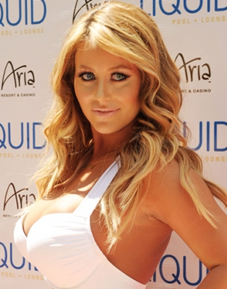 The Hustle Hottie Is The Hostess with The Mostest at The Liquid Pool Lounge in Las Vegas!

When the super chic Liquid Pool Lounge in Las Vegas booked former Danity Kane lead singer and reality show superstar Aubrey O'Day for a pre-Memorial Day Weekend appearance, they could never have guessed the attention that appearance would generate! The dirty blonde bombshell showed off her ever-changing physique in a daring white bikini, and the Sin City paparazzi went wild!
CLICK HERE FOR THE HEYMAN HUSTLE'S EXCLUSIVE VISIT TO AUBREY O'DAY'S NEVER-BEFORE-SEEN PRIVATE PENTHOUSE ON THE STRIP IN LAS VEGAS!
CLICK HERE FOR THE HEYMAN HUSTLE'S EXCLUSIVE PHOTOS YOU WON'T FIND ANYWHERE ELSE BEHIND-THE-SCENES OF AUBREY O'DAY'S "PEEP SHOW!"
Always a lightning rod for controversy, Aubrey enjoyed every moment of the spotlight, celebrating and embracing her fame instead of pretending to shy away from it like so many other modern day starlets.
You can follow Aubrey O'Day on Twitter HERE, and why not join the conversation about her with our HustleTweeters? It's easy to do. Just follow the Hustle on Twitter HERE or write to us direct at hustleoncrave@gmail.com Of course, you can always check us out on Facebook HERE and on MySpace HERE
And what kind of Hustlers would we be without a YouTube channel? You can subscribe –absolutely free–to our YouTube Channel HERE!
CLICK ON THE PICS BELOW TO SEE ALL OF AUBREY IN VEGAS!

OUR OWN HUSTLER DE TUTI HUSTLERS PAUL HEYMAN REALIZES HIS ELBOW
IS GETTING QUITE THE BOOB-RUB FROM DANITY KANE'S AUBREY O'DAY
DURING THIS FIRST SEASON EPISODE OF "THE HEYMAN HUSTLE!"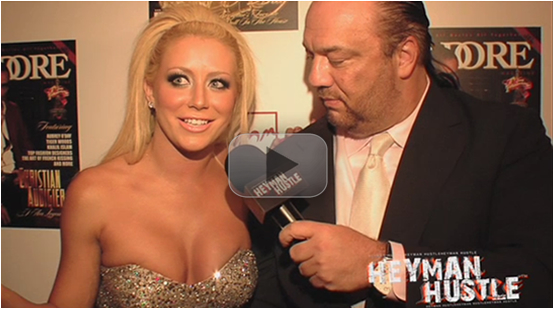 IT'S TIME FOR AN ALL NEW EDITION OF THE HOLLYWOOD CHARLIE
MEDIA WATCH, OUR DAILY TRAVEL ACROSS THE WORLD WIDE WEB.
OUR HIGHLY TRAINED MONKEYS HAVE PICKED OUT THE 15 WILDEST
STORIES FROM THE INTERNET FOR YOUR ASTUTE REVIEW. YOUR PART
IS VERY EASY. ALL YOU NEED TO DO IS PICK A PIC … AND CLICK!