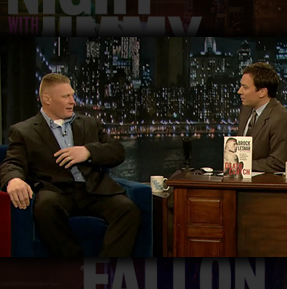 Will Post-Midnight Television Ever Be The Same Again?
Brock Lesnar's SUPER BUSY MEDIA DAY PROMOTING "THE ULTIMATE FIGHTER SEASON 13" continued with a hysterical appearance on NBC's "Late Night with Jimmy Fallon," in which Brock not only discussed TUF, but also his training methods, his upbringing, and of course the upcoming release of his book DeathClutch!
CLICK HERE TO TAKE ADVANTAGE OF AMAZON'S SPECIAL PRE-ORDER SALE OF BROCK'S "DEATH CLUTCH" CO-WRITTEN BY OUR OWN HUSTLER DE TUTI HUSTLERS PAUL HEYMAN!
Of course, we're HustleTweeting about Brock's appearance on Jimmy Fallon's show, and you're more than welcome to join the conversation! Follow the Hustle on Twitter HERE or write to us directly at hustleoncrave@gmail.com
You can also subscribe (for FREE, cheapos, absolutely FREE) to our Ultra High Quality YouTube Channel HERE, and don't forget to check out our old school social networking skills by visiting us on Facebook HERE and even on MySpace HERE
CLICK ON THE PICS BELOW TO SEE THE ENTIRE EXCLUSIVE
GALLERY OF BROCK LESNAR ON "LATE NIGHT WITH JIMMY FALLON!"

WATCH BROCK VS JIMMY FALLON NOW!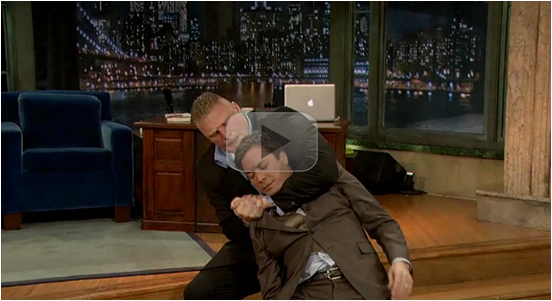 IT'S TIME FOR AN ALL NEW EDITION OF THE HOLLYWOOD CHARLIE
MEDIA WATCH, OUR DAILY TRAVEL ACROSS THE WORLD WIDE WEB.
OUR HIGHLY TRAINED MONKEYS HAVE PICKED OUT THE 15 WILDEST
STORIES FROM THE INTERNET FOR YOUR ASTUTE REVIEW. YOUR PART
IS VERY EASY. ALL YOU NEED TO DO IS PICK A PIC … AND CLICK!