Our Own Hustler De Tuti Hustlers Paul Heyman Offers His Thoughts On Undisputed UFC Heavyweight Champion Brock Lesnar, Cain Velasquez, and the mysterious Marty Morgan
The UFC 121 Press Conference was a most interesting experience. Once again, Zuffa knows how to set up and coordinate these media-and-fan gatherings. Jennifer Wenk, truly one of the unsung heroes behind the massive global success of UFC, knows how to balance getting as much publicity as possible for an event, with the flip side of pushing a fighter to do too much on fight week. It was always a struggle to find that happy medium in the predetermined (but nonetheless physically taxing) world of professional wrestling, it's even trickier in the Ultimate Fight game.
The fact Brock Lesnar's beard has so gotten so much attention means everyone has enough sound bites for this fight. Lesnar says he will pop Cain's "O," and Velasquez is positive he will bring a fight to Brock Lesnar that will render the current Baddest Man on the Planet an "ex-champion."
Throughout the afternoon, the Hustle's TWITTER PAGE exploded with people wondering if Brock was going to keep his beard for the fight. The curiosity hit a fever pitch when AOL Fanhouse's ARIEL HELWANI "the beard question" at the press conference.
In case you're wondering, Brock is entering the Octagon with the beard. He's taking his family hunting after this fight, and he's ready to assume the role of the "slayer."
"I grow a beard in the winter," Brock told me in the car on the way to the press conference, "it gets cold where I hunt, and the beard helps keep my face warm. I'm a viking, this is my beard, and after this fight, I'm-a-goin-hunting!"
I liked the press conference, because it revealed a lot about some very key people in UFC. @TITOORTIZ, a one hundred percent shoe-in for a 1st-ballot Hall of Fame induction, repeated over and over again how honored he is just to be on the undercard of a Brock Lesnar fight. For one of the true pioneers of the sport (and one who is only 2 years older than Brock), Tito's demeanor and attitude were nothing short of class.
Brock is Brock. Always will be. It's one of the many things I admire so much about my friend.
Everyone seems so focused on Cain's cardio.
I am a huge Cain Velasquez fan. I am of the opinion that Cain Velasquez would unquestionably be the UFC Heavyweight Champion of the World at any other time in history. But to do so now, he has defeat Brock Lesnar. That's not hype. That's fact. Brock is 265 pounds. I cannot get over the condition he's in. It's freakish, even when compared to his "usual" freakishness.
Please keep in mind, when Brock and I worked in WWE, he would grab me underneath the armpits, and fling me up in the air like a baby, only to catch me, and then go into the spiral of pain known as F-5. This is an extraordinary feat of strength, and yet Brock did it with ease (and a gorilla's giggle) every night.
"I think I'm just as strong now," Brock said today, "I have just as much power as I did before, and I'm not lugging around with all that extra weight. I feel great!"
That's not just a media ploy. Brock does feel great. I've never seen him so healthy."I am very careful about what I put into my body now, I learned my lesson the hard way. I look at everything I put into my body as fuel for a premium machine that is heading into the biggest race of the year. I have a lot of people that depend on me winning, and I take that responsibility to heart. I don't put any food or supplements into my mouth, just because I'm hungry. I'd rather wait and eat right than even chance screwing myself up."
"I know everyone thinks I just wear these company's logos on my shirt because they're paid sponsorships," Brock said, "but I've never whored myself out. Not for millions and millions in pro wrestling, not to go play European football, never. I really do use Dymatize. It works for me. Their products made me much healthier, and they're a vital part of my recovery and diet. I believe it, so I say it. If I didn't believe it, they couldn't pay me enough to endorse them."
Brock also credits the man in his corner, the head coach of Team Lesnar, Marty Morgan. Current head trainer for the UFC World Heavyweight Champion Brock Lesnar as well as BELLATOR WORLD HEAVYWEIGHT CHAMPION COLE KONRAD, Marty Morgan is a masterful motivator. He knows exactly how to pace Brock, and when to assert his role as leader of the team.
"Brock is the most driven man I've ever met in my life," Marty noted today in the car, "He knows what he wants, and he steps forward to do it. He built a fence around his property that would have taken weeks, maybe even months for anyone to accomplish. I won't even say how long it took for him to do it. That's Brock. He sees what he wants, and he becomes a warrior to take it and achieve it."
"The difference in Brock from before he got sick is pretty remarkable," the head coach offered, "now, there's not only discipline in the gym, but there is also discipline outside of it, and I'm talking specifically about his diet. He's eating the right food, providing his body with everything it needs so we need to mold a champion … together as a team … and that team comprises of me, him, the other coaches, and everyone who is allowed inside the DeathClutch Gym."
It's been an interesting week. I'm excited as hell for this fight. Cain Velasquez is the real deal. He's young, he's also driven as Brock, and he's going to push Brock into a situation where Brock Lesnar is going to have to be at his absolute best to fend this challenger off.
It's that "push to be his best" that has me intrigued. Just how good is Brock Lesnar?
I have a feeling (and I'm the first one to admit, I'm biased on this subject), we are all going to find out (and here comes the hype line, but it's really no hype … I'm just hyped up for the fight) this Saturday Night when the door to the Octagon is locked, and it's just two warriors, carrying their family pride and their personal drive, waiting for the referee to tell them it's time to fight.
And to find out which one is a better fighter than the other.
Paul Heyman is embedded with Camp Lesnar this week, and is HustleTweeting LIVE. You're more than welcome to join the conversation by following The Heyman Hustle on Twitter HERE

CLICK ON THE VIDEO
FOR THE MOST UP-TO-THE-MINUTE HYPE FOR UFC 121!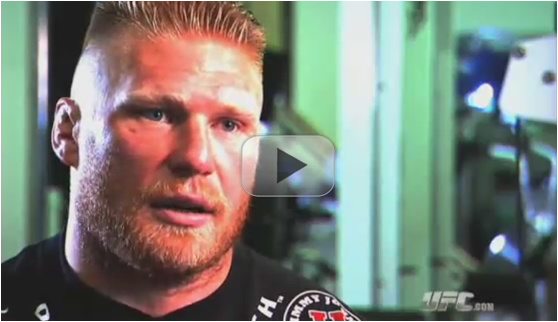 THE HEYMAN HUSTLE'S VERY OWN TRAINED MONKEYS ARE PROUD
TO PRESENT THE TOP 15 STORIES OF THE DAY, ALL CONVENIENTLY
LINKED HERE FOR YOUR REVIEW. NO NEED TO SURF THE WEB, WE
DID ALL THE HARD WORK FOR YOU. JUST PICK A PIC AND CLICK!