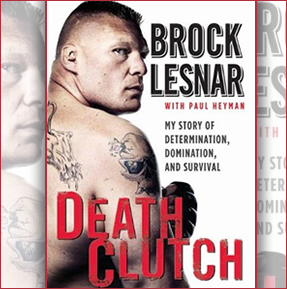 AOL's Ariel Helwani Interviews Brock Lesnar About "The Ultimate Fighter," But This Discussion Quickly Becomes No Holds (or Questions) Barred!
Brock Lesnar took part in a SpikeTV-arranged "Full Media Day" today, making himself uncharacteristically available for media interviews, and perhaps the most interesting exchange occurred (no surprise here) with Ariel Helwani of AOL.
CLICK HERE TO PRE-ORDER ON AMAZON BROCK LESNAR'S UPCOMING BOOK "DEATH CLUTCH" CO-WRITTEN WITH OUR OWN HUSTLER DE TUTI HUSTLERS PAUL HEYMAN!
CLICK HERE FOR A PREVIEW OF BROCK ON THE NEW SEASON OF "THE ULTIMATE FIGHTER!"
In discussing "The Ultimate Fighter," the subject of Brock's confrontation with The Undertaker after UFC 121 came up. As many of you know, Helwani was the reporter who was interviewing The Undertaker when A MOMENT happened between the two.
Brock then laid a heavy one on Helwani, stating he's the only WWE Superstar who could make the transition into becoming the top draw in MMA.
"I can always go back and be a pro wrestler," Brock stated, "they can't come and be an Ultimate Fighter."
You can watch the entire interview with Brock, along Ariel Helwani's observations on AOL HERE
We're HustleTweeting about Brock, and you're more than welcome to join the conversation! Follow the Hustle on Twitter HERE or write to us directly at hustleoncrave@gmail.com
You can also subscribe (for FREE, cheapos, absolutely FREE) to our Ultra High Quality YouTube Channel HERE, and don't forget to check out our old school social networking skills by visiting us on Facebook HERE and even on MySpace HERE
CLICK ON THE PICS BELOW TO SEE THE ENTIRE GALLERY
FEATURING "THE ULTIMATE FIGHTER 13" COACH BROCK LESNAR!

HERE'S ARIEL HELWANI INTERVIEWING BROCK LESNAR!

IT'S TIME FOR AN ALL NEW EDITION OF THE HOLLYWOOD CHARLIE
MEDIA WATCH, OUR DAILY TRAVEL ACROSS THE WORLD WIDE WEB.
OUR HIGHLY TRAINED MONKEYS HAVE PICKED OUT THE 15 WILDEST
STORIES FROM THE INTERNET FOR YOUR ASTUTE REVIEW. YOUR PART
IS VERY EASY. ALL YOU NEED TO DO IS PICK A PIC … AND CLICK!