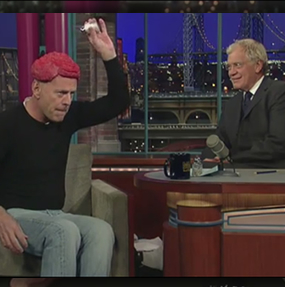 The Funny Man / Action Hero Channels His Inner Gaga!
Bruce Willis went Gaga on David Letterman, wearing a meat toupee in his homage to the Lady's choice of dress for the MTV Video Music Awards 2010.

Letterman teased Bruce, "You've, uh, you've dyed your hair?"
But Bruce came back with "No, this is all natural. It's 100% ground beef sirloin. Top shelf, organic."
Then Bruce asked Letterman to taste the beef, and to many people's surprise, Letterman obliged by taking a forkful of meat from his head and putting it his mouth. The host then ran backstage to spit it out.

DON'T BELIEVE US? CHECK OUT THE VIDEO BELOW!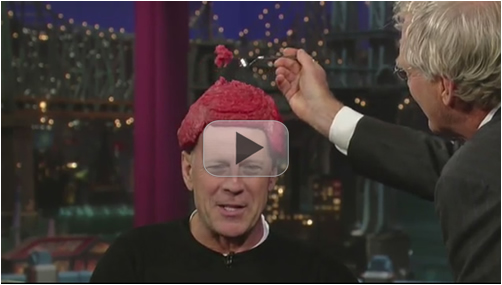 THE HEYMAN HUSTLE'S VERY OWN TRAINED MONKEYS ARE PROUD
TO PRESENT THE TOP 15 STORIES OF THE DAY, ALL CONVENIENTLY
LINKED HERE FOR YOUR REVIEW. NO NEED TO SURF THE WEB, WE
DID ALL THE HARD WORK FOR YOU. JUST PICK A PIC AND CLICK!