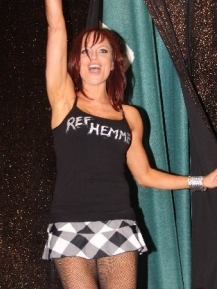 HUSTLE EXCLUSIVE!
We sent famed pro wrestling photographer Bob Mulrenin out to a Northeast independent wrestling show over the weekend to cover the interesting promotional idea of using former WrestleMania Playboy Cover Girl and Diva Search Winner (not to mention current TNA Knockout) Christy Hemme as a special referee. Oh, imagine the possibilities!
Of course, Mulrenin spent so much time photographing Christy, we didn't get any pictures of the match.
We hope you're not disappointed. Mulrenin could not be reached for comment, he was reportedly taking his third cold shower of the day.
We're HustleTweeting about Christy, and you're more than welcome to join us! Follow THE HEYMAN HUSTLE on Twitter HERE or write to us at hustleoncrave@gmail.com
You can also subscribe (for FREE, cheapos, absolutely FREE) to our Ultra High Quality YouTube Channel HERE, and don't forget to check out our old school social networking skills by visiting us on Facebook HERE and even on MySpace HERE
CLICK ON THE PICS BELOW FOR OUR EXCLUSIVE PHOTO GALLERY
FEATURING TNA KNOCKOUT / PLAYBOY COVER GIRL CHRISTY HEMME!

IT'S TIME FOR AN ALL NEW EDITION OF THE HOLLYWOOD CHARLIE
MEDIA WATCH, OUR DAILY TRAVEL ACROSS THE WORLD WIDE WEB.
OUR HIGHLY TRAINED MONKEYS HAVE PICKED OUT THE 15 WILDEST
STORIES FROM THE INTERNET FOR YOUR ASTUTE REVIEW. YOUR PART
IS VERY EASY. ALL YOU NEED TO DO IS PICK A PIC … AND CLICK!