Headaches, Headaches, Headaches. Running An Independent Wrestling Show Is Nothing But One Crisis After Another. Man, I Love This Job!
People often ask what a typical day of an independent wrestling promoter and booker is like. Well, there is no such thing as a typical day, especially during show week. In fact, as I've written before, one phone call can change everything. That happened on Tuesday, when the lineups for the Dragon Gate USA events this Saturday in Chicago and Sunday in Milwaukee had to be changed.

I was enjoying a beautiful afternoon with my new routine of taking my 10-month-old baby out for a walk. That's my new daily lunch break. It is always a stress free hour that just puts me in a good state of mind to tackle the rest of the day. I was in a particularly good mood because I had just received an email from the Dragon Gate office approving my booking recommendations for our final four shows of 2010. I was really happy with the plans and was excited to see them put into motion. Of course, it's always when your day is going best, when everything goes haywire.

My cell starts to vibrate and I see Jigsaw's name. I pick up anticipating a positive call, because I had asked Jigsaw to shoot some YouTube promos to hype his matches this weekend.

It's been a great year for Jigsaw in DGUSA. In fact, I believe in the past year, I believe he has become one of the most improved wrestlers anywhere in the world. Jigsaw has stepped up to every occasion. He has progressed from "up-and-comer" to "established DGUSA star." Now he was in the pay-per-view main event this Saturday night in Chi-town teaming with Mike Quackenbush against the most decorated tag team in Dragon Gate history, Masato Yoshino & Naruki Doi. He also was in his biggest DGUSA singles match yet on Sunday afternoon in Milwaukee against long time rival and CHIKARA regular Gran Akuma.

Please take note of the word "was."

The phone call was every booker's nightmare. In a somber voice, Jigsaw told me that he just got out of the doctor's office and had a 1st degree sprain in his MCL. No way around it, he was out for 3-4 weeks. He sounded like someone just ran over his dog. I tried my best to console him while thoughts raced through my head on how to rebook the weekend. It was time to change course.

Jigsaw will be back and better than ever. But short term, things had to change in a hurry.

I have always had a philosophy of not holding back, and trying to deliver something special when we have to change the card. It's not always possible, but you have to try. We first did that in Ring Of Honor in September of 2002 when Steve Corino and Brian "Spanky" Kendrick had to cancel off a show. Keep in mind that we were grooming Kendrick to be ROH Champion at the time. This sudden cancellation led the way for the incredible Paul London vs. Michael Shane ladder match, which helped put ROH on the map, and instantly made London the first ROH "homegrown" star.

I started going over all the possibilities in my head as I pushed the stroller home with a little extra hurry in my step. It was time to get back to work. Do we just find another partner for Mike Quackenbush?

No, Quack and Jigsaw are the regular team and a substitution would disrupt their push.

Do we try to book an outsider?

No, it would be hard to find a substitute and our budget is exhausted.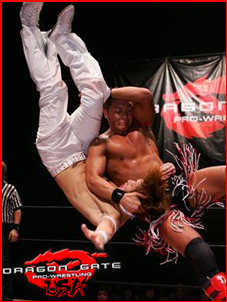 Then it all comes down to what I mentioned in THE MOST RECENT BLOG I'VE POSTED HERE ON THE HEYMAN HUSTLE. What does the wrestling fan inside me want to see? Let's get "The Dragon Gate Icon" CIMA in there with Doi and Yoshino! It doesn't really get any more marquee than that. You have the founder of Dragon Gate on one side, and Japan's current top singles champion (Yoshino) and the man who has held the belt the longest in Dragon Gate history (Doi) on the other team. This is a bonafide main event, except we still need a partner for CIMA.

I ran down my handwritten lineup sheet to find a name I could pull out of a match. Nothing really clicked or made sense. If you recall, in my last blog, the Ricochet vs. Kyle O'Reilly match on the last EVOLVE card. Ricochet not only carried his end of a semi-main event match, but he also shined in the show stealing four-way on DGUSA's recent "Enter The Dragon" pay-per-view.

These performances earned him the spot of CIMA's opponent in Chicago, so now he didn't have a match. Let's give him the opportunity to take a giant step forward and put him as CIMA's partner. It even made sense with the Warriors International Challenge storyline. However, there was one major concern.

Ricochet is on the rise, there is no doubt about that. In 2011 everyone will know his name. However, this Saturday he might be unknown to the majority of the Chicago audience. The concern was if this match could produce some much needed ticket sales. I started developing an angle so that we advertise a mystery partner and set up Ricochet as CIMA's partner that night. Then I remembered some words from Paul Heyman … "Under promise and over deliver."

I started realizing how the mystery partner idea could backfire on us. Sometimes people get unrealistic expectations. I could see people getting their hopes up we could land an Alex Shelley type or fly someone in from Japan on a last minute plane ticket that is sure to cost a few thousand dollars. That wouldn't even be the worst way it could backfire. Some people in the audience could feel ripped off we didn't deliver a national name and take it out on Ricochet, putting him in a hole that he would have to dig out of in the most important match of his career. We want to set Ricochet up for success in Chicago.

So, how do handle this crisis?

We advertise the match based on the good faith we have built with our audience. We move Mike Quackenbush into a three-way match with BxB Hulk and Akira Tozawa, making an undercard bout more interesting. Then in Milwaukee we once again put Ricochet in Jigsaw's spot against Gran Akuma. We under promise on matches that I'm sure will really over deliver in a big way.

Maybe some people won't buy a ticket because the "name" value isn't there, but I'm sure after they hear the buzz from the match they'll regret not being there to experience it for themselves for a long time. Meanwhile, those that do attend will talk about the weekend a new star was born right before their eyes.

So that's my solution. Was the crisis averted? In just a few hours, I'm going to find out!

Gabe Sapolsky is the VP and head creative force behind Dragon Gate USA. The promotion is LIVE tonight, September 25, 2010 at the Congress Theater in Chicago at 8pm with a loaded lineup featuring Bryan Danielson/WWE's Daniel Bryan. DGUSA will also present an afternoon show tomorrow at the Miramar Theatre in Milwaukee at 2pm. Ticket information available at www.DGUSA.TV or by calling 267-519-9744. Both events have special tickets reserved for walk-up fans as well. Be sure to HustleTweet about your DGUSA experiences to us HERE

THE HEYMAN HUSTLE'S VERY OWN TRAINED MONKEYS ARE PROUD
TO PRESENT THE TOP 15 STORIES OF THE DAY, ALL CONVENIENTLY
LINKED HERE FOR YOUR REVIEW. NO NEED TO SURF THE WEB, WE
DID ALL THE HARD WORK FOR YOU. JUST PICK A PIC AND CLICK!