HUSTLE EXCLUSIVE!
I remember when Paul Heyman first brought up the "Cyberslam" concept in ECW in 1996. A bunch of fans from around the country were buying tickets to our event at the ECW Arena. They all came together on this new sensation called the Internet. The result was a hugely successful event that was profitable for ECW, built the brand and was memorable for all the fans in attendance.
The lesson- be at the forefront of technology and what's hot. Now almost 15 years later we are doing that with Dragon Gate USA and EVOLVE. This time it is with the relatively new Internet pay-per-view (iPPV) concept. After months of hard work and beta testing we rolled out www.WWNLive.com last week. This was a landmark achievement for everyone at DGUSA and EVOLVE. We brought the capability to produce live iPPV in house. We now control our own destiny and are the first company to do this.
We go live with our premiere iPPV event this Saturday, April 2nd at 8pm Eastern Time with DGUSA "Mercury Rising 2011" featuring three main events. There's butterflies in my stomach, but its not because I'm nervous about the broadcast. We have put the stream and our equipment through test after test. It's excitement. We are entering a new era.
I remember watching an incredible, early ECW house show with a crowd of a few hundred in Plymouth Meeting, PA and thinking "why aren't all these shows being taped." It was unheard of to film house shows at the time. Shortly after, the fan cam series was born.
When we created RING OF HONOR, it seemed unfathomable for an independent wrestling promotion to produce a DVD of every show. We did it and were highly successful with it.
Now the next evolution is here. Live iPPV is the future. The fact that we have brought it in house has opened up a whole new universe of possibilities. This is just the beginning of what we can create.
In fact, we already figured out a way to make everyone reading this a partner with WWNLive. Our Affiliate program means that you can sell any iPPV on WWNLive on your website, blog, Twitter, Facebook, or whatever you have online and believe it or not, you can make money.
The new era begins this Saturday from Atlanta, GA. We'll go on live iPPV at 8pm Eastern Time with Austin Aries putting his DGUSA career on the line as he goes for the DGUSA Title against YAMATO.
The six man tradition returns, but for the first time it's a grudge match with the buzzworthy new stable of Ronin taking on Dragon Gate veterans CIMA & Naruki Doi as well as breakout star Ricochet.
PAC can do things no one else can inside the ring and he'll defend Dragon Gate Japan's Open The Brave Gate Championship for the first time in the United States. His opponent is the red hot Akira Tozawa, who has won over the fans of independent wrestling in recent months.
I promise you that those three matches alone will be worth the $14.99 we are charging.
You can see this all live, as-it-happens. It gives me chills to be able to type that.
When Paul first said the word "Cyberslam" to me we knew the future had taken a completely new direction and there was no going back. Now I feel the same way with the launch of WWNLive!
================
Gabe Sapolsky is the co-founder of DragonGateUSA, and can't stop telling every single solitary person he knows the promotion goes live on iPPV this Saturday night, April 2, 2011, on WWNLive! DGUSA will also be live the night before at the Mid-Atlantic Sportatorium in Burlingham, North Carolina, and at Noon on WrestleMania Sunday, April 3rd, at The Presidential Ballroom in Atlanta, Georgia. For more information, go to www.DGUSA.TV or call 267-519-9744.
================
DGUSA COMING TO WWN LIVE THIS SATURDAY NIGHT!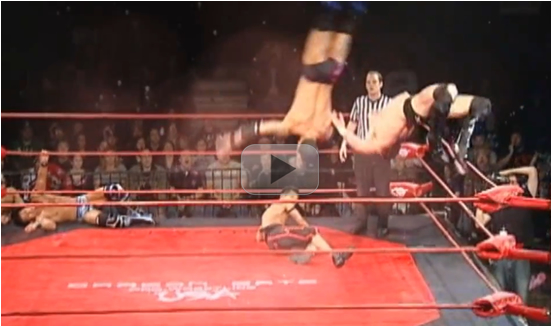 IT'S TIME FOR AN ALL NEW EDITION OF THE HOLLYWOOD CHARLIE
MEDIA WATCH, OUR DAILY TRAVEL ACROSS THE WORLD WIDE WEB.
OUR HIGHLY TRAINED MONKEYS HAVE PICKED OUT THE 15 WILDEST
STORIES FROM THE INTERNET FOR YOUR ASTUTE REVIEW. YOUR PART
IS VERY EASY. ALL YOU NEED TO DO IS PICK A PIC … AND CLICK!