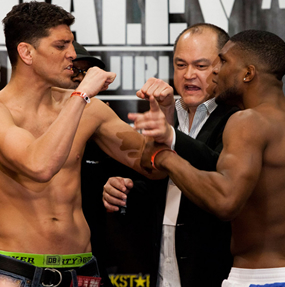 Our Own Hustler De Tuti Hustlers Will Be Interactive Tonight During The Historic Cablecast From San Diego, California!

Mixed Martial Arts history will be made tonight as Strikeforce will present its very first major event since the Zuffa takeover, and we understand both Lorenzo Fertitta and Dana White will be on hand for the show.
In the main event, Strikeforce Welterweight Champion Nick Diaz will defend his championship against Paul Daley in a battle of MMA's bad boys.
CLICK HERE TO SEE NICK DIAZ WITH OUR OWN HUSTLER DE TUTI HUSTLERS PAUL HEYMAN ON THE FIRST EPISODE OF THE NEW SEASON OF THE HEYMAN HUSTLE!
CLICK HERE TO SEE A VERY TENSE INTERVIEW WHERE NICK DIAZ WANTS TO SLAP MMA REPORTER ARIEL HELWANI!
Strikeforce Lightweight Champion Gilbert Melendez will take on Tatsuya Kawajiri in what many think will be a thrilling bout.
CLICK HERE TO SEE GILBERT MELENDEZ IN "EL NINO!" THE LOOKING4LARRY / PAUL HEYMAN PRODUCED VIDEO FOR THE EA SPORTS MMA VIDEO GAME!
Gegard Mousasi steps into the Hexagon against "The Dean of Mean" Keith Jardine; Lyle Beerbohm takes on Japanese submission master Shinya Aoki.
Please feel free to join the conversation with Paul live tonight by following the Hustle on Twitter HERE or write to us directly at hustleoncrave@gmail.com
You can also subscribe (for FREE, cheapos, absolutely FREE) to our Ultra High Quality YouTube Channel HERE, and don't forget to check out our old school social networking skills by visiting us on Facebook HERE and even on MySpace HERE
| | |
| --- | --- |
| SEE COMMENTS FROM BOTH NICK DIAZ AND PAUL DALEY! | SEE THE PRE-FIGHT PRESS CONFERENCE INCIDENT! |
| | |

IT'S TIME FOR AN ALL NEW EDITION OF THE HOLLYWOOD CHARLIE
MEDIA WATCH, OUR DAILY TRAVEL ACROSS THE WORLD WIDE WEB.
OUR HIGHLY TRAINED MONKEYS HAVE PICKED OUT THE 15 WILDEST
STORIES FROM THE INTERNET FOR YOUR ASTUTE REVIEW. YOUR PART
IS VERY EASY. ALL YOU NEED TO DO IS PICK A PIC … AND CLICK!