Your Very 1st Look at Suicide Squad's Most Controversial Casting!
Jared Leto will play The Joker in the upcoming "Suicide Squad" movie, and after a great number of teases from multiple sources, director David Ayer released this picture of Leto in full Joker makeup. Leto's Joker has "damaged" scrawled across his forehead; the classic green hair and red lips; the new addition of blackened teeth; and a ton of "HAHAHA" tats across his torso. The image seems to confirm Ayer's hints that his version of the Joker will take cues from Alan Moore's classic graphic novel Batman: The Killing Joke. In that story, the Joker is introduced as a failed stand-up comic turned two-bit criminal who has one remarkably bad day.
In addition to Leto, Suicide Squad features an all-star cast, including Will Smith as Deadshot; Margot Robbie as Harley Quinn; Cara Delevingne as Enchantress; and Viola Davis as Amanda Waller. In the film, the super villains are all recruited by the government for a suicide mission, with Davis playing the boss. The film is scheduled to be released August 5, 2016.
Of course, we're HustleTweeting about Jared Leto as The Joker and you're more than welcome to join the conversation by following The Heyman Hustle on Twitter HERE! You can also post your thoughts on our Facebook page HERE! If you feel compelled to write us, please do so at HustleOnCrave (at) Gmail.com
BTW, we are kicking ass with our YouTube Channel which features such amazing videos as BRUTAL WWE MOVES: THE REVENGE … #HustleBootyTempTats SUPER MODEL OF THE YEAR ELLIE GONSALVES … BEHIND THE SCENES with BROCK LESNAR … MISSY HYATT's SEX CONFESSIONS … and never to be outdone, COCO DISCUSSES "THE STROKE!"

We are, indeed, on MySpace but we've neglected our account for years … and if you're looking for our Friendster account, GFY!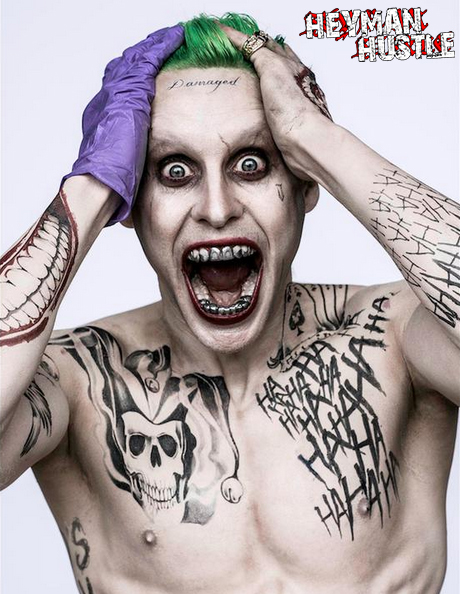 WE HERE AT THE HEYMAN HUSTLE HAVE ENSLAVED HIGHLY TRAINED
MONKEYS TO IGNORE THE FACT THEY ARE OVERWORKED AND UNDERPAID,
ALL IN THE NAME OF SCOURING THE WORLD WIDE WEB TO FIND THE FIFTEEN
MOST PROVOCATIVE STORIES ON THE INTERNET. ALL FOR YOU. NO ONE ELSE
BUT YOU. JUST YOU. AND ALL YOU NEED TO DO IS PICK WHICH PIC TO CLICK!