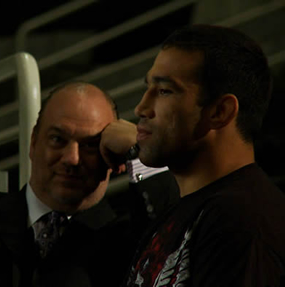 HUSTLE EXCLUSIVE!
Fabricio Werdum: Live The Moment is the third in a series of five vignettes produced by Paul Heyman and Mitchell K. Stuart's new advertising/marketing/branding firm Looking 4 Larry, promoting the EA SPORTS MMA video game.
 
CLICK HERE TO SEE VIGNETTE NUMBER ONE, THE 2nd SEASON DEBUT OF THE HEYMAN HUSTLE WITH OUR SPECIAL GUEST STRIKEFORCE WORLD WELTERWEIGHT CHAMPION NICK DIAZ!
 
CLICK HERE TO SEE VIGNETTE NUMBER TWO, "A SHORT FILM BY FRANK SHAMROCK!"
 
"Fabricio Werdum provided MMA fans with one of the most memorable moments in the history of the sport," stated our own Hustler De Tuti Hustlers Paul Heyman during our staff meeting this morning, "His shocking submission of Fedor Emelianenko is the defining moment in his career, one which he will relive over and over again. No one had ever decisively defeated Fedor in mixed martial arts before, let alone force The Last Emperor to tap out. It was no easy task for Werdum, and no easy task for the gamer looking to Live The Moment, too!"
 
Fabricio Werdum: Live The Moment was shot at the HP Pavilion in San Jose, California for the EA SPORTS MMA video game, to be released October 19, 2010.
 
Directed by Mitchell K. Stuart
Executive Producer – Writer Paul Heyman
Produced by Heyman and Stuart for Looking 4 Larry Productions
Director of Photography Mauricio Vasquez
Edited by Justin Freedman
CLICK ON THE PICS BELOW TO SEE
EXCLUSIVE BEHIND-THE-SCENES PICS OF FABRICIO WERDUM!

CLICK ON THE VIDEO BELOW TO WATCH
"FABRICIO WERDUM: LIVE THE MOMENT"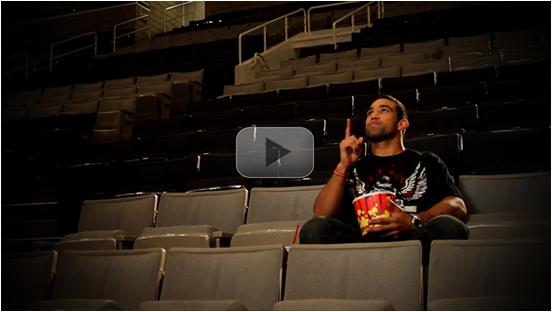 THE HEYMAN HUSTLE'S VERY OWN TRAINED MONKEYS ARE PROUD
TO PRESENT THE TOP 15 STORIES OF THE DAY, ALL CONVENIENTLY
LINKED HERE FOR YOUR REVIEW. NO NEED TO SURF THE WEB, WE
DID ALL THE HARD WORK FOR YOU. JUST PICK A PIC AND CLICK!