An Inside Look At EVOLVE's Biggest Show To Date, And How It Ties In To The Next Dragon Gate USA Event With WWE's Daniel Bryan In The Main Event!
I really believe in the concept of EVOLVE. Not just because I have a personal, vested interest in its success, but because I am a fan of the freedom it gives the artists in the ring. If you joined us September 11th in New Jersey, I would bet you know what I'm talking about. Wow, what a day.
I arrived at the modern Rahway Rec Center in Rahway, NJ at about noon on Saturday. The Wrestling Reunion Convention, which was very well run and organized, was still in process. I have to admit, when I got there, and the convention was still going on, I started looking for a place where I could just be left alone and go over the EVOLVE show. But I haven't been to a convention in years. I have to admit they are a little strange. It's like reliving your childhood, only everyone is older, fatter and with less hair, including me.

As the convention began to wind down around 2:45, the rush of adrenaline hit, as it was time to get back to work, and we were crunched for time. We had one hour and fifteen minutes to break down the convention, set up the building and get the fans comfortably in the door without hassle. Normally that's three hours work. Fortunately, we have an incredible crew that truly knows the meaning of the word hustle. However, the clock was ticking.

The 60 minutes before the show are a blur now. There was so much to do and the minutes were passing fast. Are all the rows and seat numbers in order? No.

Go find some chairs and haul them in. Is production ready? Check.

My partner in EVOLVE Wrestling, Sal Hamaoui is racing around getting everything set up. Time to get some promos done. Our production manager Dave Puente is at the ready. Then it was time to take a moment and run through everyone's match just to make sure we are all on the same page. It's 3:45 and the doors to the fans still haven't been open. I race out there and see a big line. They need some extra help at the front door so I jump in and return to my ECW days of distributing tickets.

We get the fans into the building in record time. 4:00 hits and we are almost there. I feel a slight pit in my stomach as we missed the 4pm belltime, but I knew we were right at the finish line. A couple of minutes later and Sal gives the thumbs up that the cameras are ready to go. We hit the music and it's on. 4:04 start time. Now I can take a breath.

All the wrestlers know what to do. The key here is advance preparation. Then you let the talent do their thing on show day. I can have a couple of conversations with some friends in the crowd, watch the matches and just keep an eye to make sure everything is moving forward.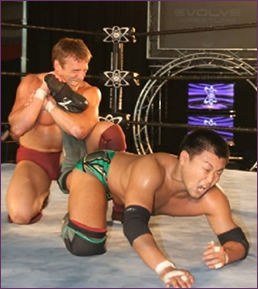 Bryan Danielson vs. Munenori Sawa was everything it was hyped to be. I wouldn't call this a pro wrestling match. It was fight exhibition. The two exchanged submissions, strikes, slaps and kicks that would make any UFC fan gasp in amazement. The skill level exhibited by Danielson and Sawa was unprecedented. Funny thing is, it wasn't even my favorite match on the card.

Sometimes, you need to take an educated gamble. We've had two young wrestlers in EVOLVE that have risen with every opportunity. Their names are Ricochet and Kyle O'Reilly.

What really impresses about Richochet and Kyle O'Reilly is the fact they have each shown creativity, athleticism, desire and a strong work ethic. It was time to go next level with them. In order to do this, they needed the chance. That came by putting them in the semi-main event. If they had a breakout match, they would make the entire show. If they didn't, we had a safety net in the main event of Danielson vs Sawa, but it would be a momentum killer that would definitely hurt buzz coming out of the event.

I am so proud to say Ricochet vs. O'Reilly came through and rose to the spot of the card with a flyer vs. striker contest that gained the second loudest fan reactions of the night behind the Danielson-Sawa main event.

The investment in giving talent the opportunity to become new stars was beginning to pay off.

We have set a course for the future.

Much like the very beginning of the ROH promotion, and much like the Original ECW before that, the wrestlers that only diehards of small, regional independent promotions knew at the beginning of the year are now building reputations. So what next for the future? Short term, it begins with Bryan Danielson and picking his opponents for his final Dragon Gate USA events which take place on September 25 in Chicago and September 26th in Milwaukee.

Then Bryan will once again become exclusive to WWE as "Daniel Bryan."

Last time I blogged on The Heyman Hustle, we discussed about how easy it was to book Bryan against Sawa. It was the opponent he wanted in EVOLVE. However, it was a different story with DGUSA.

Bryan didn't really have a preference.

He just wanted to be in the ring against good workers. When WWE decided to let Bryan go during the Summer, I figured we'd have him for either three or five DGUSA events (including the two October ones). This meant we had 3-5 matches with Danielson to create buzz, get the regular Dragon Gate talent over and push ticket sales. If Bryan had signed a one or two year contract with DGUSA, we might have built storylines more, but in this case we didn't have that luxury. One of Paul Heyman's lessons is turning a weakness into a strength. The weakness here is that we can't build long term storylines with Bryan. This means that our strength is that we can hotshot the best possible matches and just deliver.

We went right back to the basics in deciding Bryan's opponents. Who are the opponents that will push Bryan in the ring? What are the matches we have the chance to host that no other promotion can offer? What bouts will captivate and grab the attention of the fans? Well, instead of sitting here and analyzing things, I just did what I have always done- I simply booked what the wrestling fan inside of me would want to see.

The names Shingo, YAMATO, Masato Yoshino and Naruki Doi all jumped into my head.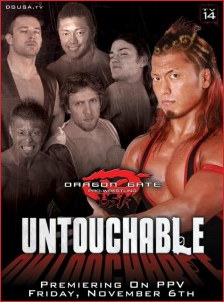 It was easy to cross Doi off the list, simply because we had held Doi vs. Danielson on our "Open The Untouchable Gate" event last year. This process of elimination seemed to make things real easy. We get the Shingo match in first, since that was a bout we had the opportunity to do during my time booking Full Impact Pro and never did. I have regretted that until a few weeks ago when the match went down at the DGUSA "Enter The Dragon" event in Philadelphia. Man, did it deliver.

From there we go to show #2 with Danielson, which is September 25th in Chicago. Not only was my gut screaming that Danielson vs. YAMATO was a money match, but it made perfect sense. YAMATO is Shingo's tag partner so we can progressively build from show-to-show. YAMATO, who has a MMA background in Japan's Pancrase promotion, is a charismatic young star. In fact, Dragon Gate has already awarded its top championship to this exciting new star. He is the present and future rolled into one cutting-edge package. This first-time-ever match is sure to test Danielson creatively and physically.

This leaves us with Yoshino for September 26th in Milwaukee, right? Not so fast.

I had a meeting with the Dragon Gate brass the day after our Summer event in Philly, and in that meeting we reached one conclusion. We needed Americans that would be seen as homegrown DGUSA stars. We isolated a few names. We even signed a few talents to contracts. One of those upcomers is Jon Moxley, an imposing, unpredictable, cunning character that absolutely blew me away with his promo ability, which you can see HERE. Investing in the future starts in the present.

Moxley is more than a capable wrestler, not really in the mold of the Dragon Gate style, but a good technician with intense brawling skills and a powerful move set. However, he has reached a plateau. In order to get better, he needs to step in the ring with his technical wrestling superiors. He made a commitment to Dragon Gate USA not for money or TV exposure, but because he realized what it means to make an investment in himself. He wanted the place that would give him the stage, opportunity and experience to learn and grow in the business. He put his faith in us that we would do everything we could to increase his value and let him improve. A match against Bryan Danielson is the epitome of that opportunity. The fans will see a new star rise before their eyes in Milwaukee.

At the same time, we have the chance to put Yoshino in one of the most killer six man tags imaginable as he teams with regular partners Naruki Doi and BxB Hulk vs. Kamikaze USA of Shingo, YAMATO and Akira Tozawa on September 26th. This could easily be the best match all year.

After deciding these matches, I was still holding out hope that Bryan would be able to do our October 29th Fall River, MA and October 30th Rahway, NJ events. We could get the Yoshino match in then. As I detailed here before on The Heyman Hustle, Bryan went back to WWE a little sooner than we expected. Looks like we'll have to find something else special for Yoshino on that October weekend when DGUSA goes to live iPPV on GoFightLive.tv. But that's ok. No promotion, even the WWE, ever goes without a hiccup. In the business of pro wrestling, you always have to be prepared to change course.

The hustle never ends.
=============================

Gabe Sapolsky is the co-founder and head creative force behind EVOLVE Wrestling and Dragon Gate USA. More information on Bryan Danielson's final scheduled appearances for DGUSA in Chicago and Milwaukee can be found at www.DGUSA.tv or by calling 267-519-9744. DGUSA.tv is holding a special ticket sale on this weekend's events until Wednesday night.

THE HEYMAN HUSTLE'S VERY OWN TRAINED MONKEYS ARE PROUD
TO PRESENT THE TOP 15 STORIES OF THE DAY, ALL CONVENIENTLY
LINKED HERE FOR YOUR REVIEW. NO NEED TO SURF THE WEB, WE
DID ALL THE HARD WORK FOR YOU. JUST PICK A PIC AND CLICK!