This Saturday Night September 11th in New York City, Ring of Honor returns to the Grand Ballroom at the Manhattan Center for Glory by Honor IX, a show that is being made available live on iPPV via www.gofightlive.tv, and yet the hype has raised a lot of questions.
Ring of Honor was created in 2001 out of the ashes of the end of the Monday Night Wars, which saw two national wrestling promotions (WCW and ECW) close its doors within one month of each other. Give credit to GABE SAPOLSKY, who saw the need in the marketplace for a unique product like ROH and helped create it; without him the question of "Is This The End?" would have been asked in the early 2000's regarding the death of alternative wrestling.
I'm no Ring of Honor historian. I came late to the game in early 2009 when Adam Pearce called me to help launch the Ring of Honor TV show on Mark Cuban's HDNet. I know a lot of people asked the question, "Is This The End?" when Adam Pearce took over the booking of ROH from Gabe Sapolsky in 2008. Pearce faced the challenge of following a person whom the audience had very passionate feelings about. His success came in the quality product he created, and one he should be proud of.
I went through a situation like that in my time in WWE. In 2006, WWE re-launched ECW as a full time company after the success of ECW's One Night Stand in 2005. There was so much hope and excitement around the return of the innovative hardcore product created by Paul Heyman. It wasn't long that it became plainly obvious that the WWE version of ECW was not going to be the same product. So when Paul Heyman couldn't stand it any more and parted ways with WWE in December of 2006, I was left with the nearly impossible challenge of being the first person who wasn't Paul Heyman to be the lead on creative for ECW. I know many people then asked, "Is This The End?" While not the same product we all had loved in the 90s, 2007 ECW saw stars like CM Punk, John Morrison, Elijah Burke, The Miz and Kelly Kelly flourish and make their first impressions on a national stage. That's something I know I'm very proud of.
Now it's 2010, and I've heard that same nagging question about ROH, "Is This The End?" Glory By Honor IX marks a very unique set of circumstances. Most notably, ROH World Champion Tyler Black signed a contract with Vince McMahon's World Wrestling Entertainment in August. The reigning champion of ROH scooped up just as he's hitting his stride by the big, evil corporation. How could this happen? Does this mean the ship is sinking and everyone is running for lifeboats? It was this same time last year when WWE announced signing Bryan Danielson and Nigel McGuiness away from ROH and everyone predicted doom and gloom for the promotion. Ring of Honor's legacy just might be just like that of ECW's in the 90s … creating an alternative product from the big two and a place for talents to make their first — and for some, most memorable — splash with a national audience. ROH has "lost" talents like CM Punk, Samoa Joe, Homicide, Matt Sydal, Low Ki and others over the years. Those performers have gone on to show that their success in Ring of Honor set them up for great things in greener pastures. This Saturday, Tyler Black faces Roderick Strong in the main event for the ROH World Championship. Will Tyler walk out of the Manhattan Center as ROH champion? Don't think it's possible?
Point of reference, Vince McMahon met with Harley Race before the very first Starcadde in 1983 in an attempt to steal the NWA Champion and screw with Jim Crockett's biggest show to date at that time.
Whenever a wrestler is "wished the best of luck in their future endeavors" from WWE, the talents ask themselves "Is This The End?"
Charlie Haas and Shelton Benjamin were both released by WWE in early 2010 and yet on this Saturday night, they walk into a new challenge. Charlie has said that they are "released and unleashed," while Shelton has said "I've proven myself more times than I can count … This weekend will simply reiterate."
On the other hand, The Kings of Wrestling (Chris Hero and Claudio Castagnoli) do believe they have something to prove this weekend. As the ROH World Tag Team Champions, the duo recently resigned with ROH and they want to show the world exactly how great they are. It's a simple story … two teams with chips on their shoulders in a match to prove who is better.
So …
Is This The End?
Yes!
At least, for this chapter for Ring of Honor. Where ROH … and the wrestling business, for that matter, go from here is in the hands of those working in it. It's an exciting and scary time. This Saturday's Ring Of Honor show at the Manhattan Center is something I'm personally looking forward to working on (I'm directing the iPPV show), and anyone who is a wrestling fan should check it out at www.gofightlive.tv When people think it's really the end, it's usually the start of something special.

David Lagana is a producer/director for Ring Of Honor and ROH on HDNet. His resume includes Lead Writer tenures at World Wrestling Entertainment's version of ECW and WWE Smackdown, as well as a writer for one season on NBC's "Friends." You can follow David on Twitter HERE

ROH GLORY BY HONOR IX
A VERY SPECIAL PREVIEW
"CLAIM YOUR MOMENT"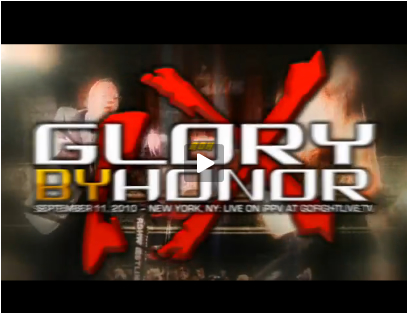 THE HEYMAN HUSTLE'S VERY OWN TRAINED MONKEYS ARE PROUD
TO PRESENT THE TOP 15 STORIES OF THE DAY, ALL CONVENIENTLY
LINKED HERE FOR YOUR REVIEW. NO NEED TO SURF THE WEB, WE
DID ALL THE HARD WORK FOR YOU. JUST PICK A PIC AND CLICK!