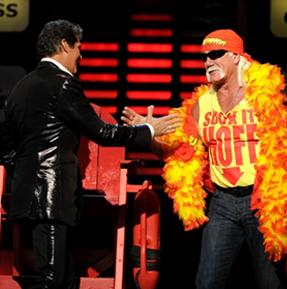 The Hulkster Verbally Drops The Proverbial Leg on The Hoff, Brother!
Hulk Hogan joined a BRA-LESS AND SEE-THRU PAM ANDERSON along with Jerry Springer, Gilbert Gottfried, Jeremy Ross, Greg Giraldo, and Lisa Lampanelli as Comedy Central taped a Celebrity Roast of David Hasselhoff over the weekend in Culver City, California.

The Roast saw host Seth MacFarlane and crew Hassle The Hoff, including these one liners:

Seth MacFarlane: "He's multi-lingual. He can speak English, Spanish, German, and…whatever the fuck that language was in the cheeseburger video."
Jeffrey Ross: "What a lucky break—an alcoholic that gets cast in a show about a car that drives itself!"

Seth MacFarlane: "Marlee Matlin called and said, 'Please, David, no more singing.'"

Pamela Anderson: "I remember how nervous I was on my first day of Baywatch because I can't swim. But David was so sweet. He pulled me aside and said, 'Don't worry, I can't act.'"

Pamela Anderson: "I really want to work with you again someday, but you know, there is just no role for somebody like me in gay porn."

CLICK HERE FOR EXCLUSIVE PHOTOS OF HULK ARRIVING AT THE COMEDY CENTRAL ROAST OF DAVID HASSELHOFF WITH SON NICK AND THE HULKSTER'S FIANCE JENNIFER McDANIEL!

The Comedy Central Roast of David Hasselhoff airs on Sunday, August 15th. We're HustleTweeting about The Hulkster's appearance on Comedy Central, and you're more than welcome to join the conversation. Please don't be left out, let your voice be heard! Follow the Hustle on Twitter and let the world know what you're thinking HERE
CLICK ON THE PICS BELOW TO SEE THE ENTIRE GALLERY
OF HULK HOGAN ON THE COMEDY ROAST!

THE HEYMAN HUSTLE'S VERY OWN TRAINED MONKEYS ARE PROUD
TO PRESENT THE TOP 15 STORIES OF THE DAY, ALL CONVENIENTLY
LINKED HERE FOR YOUR REVIEW. NO NEED TO SURF THE WEB, WE
DID ALL THE HARD WORK FOR YOU. JUST PICK A PIC AND CLICK!