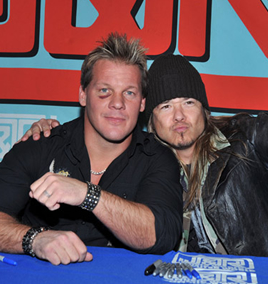 Chris Jericho arrived, bruised face but cool hair, at J&R Music World in New York City to sign copies of his band Fozzy's new CD release, "Chasing The Grail."
Jericho was joined by Fozzy guitarist Rich Ward, and the line seemed to never end. It was all part of a long promotional day for the duo, as Jericho walks the line between the WWE Universe and the music world.

Don't take Jericho's band lightly, either. This is not just some side project for the former Ayatollah of Rock n Rolla. As a matter of fact, OK! Magazine called Fozzy "a true American heavy metal band," and called Jericho "a jack-of-all-trades."

Here's the tracklisting for the 12-song CD:
Under Blackened Skies – 5:32
Martyr No More – 4:37
Grail – 5:09
Broken Soul – 4:09
Let the Madness Begin – 3:47
Pray For Blood – 5:12
New Day's Dawn – 4:34
God Pounds His Nails – 4:20
Watch Me Shine – 3:38
Paraskavedekatriaphobia (Friday the 13th) – 5:26
Revival – 4:47
Wormwood – 13:53
For more information on Fozzy, check out http://twitter.com/iamjericho
CLICK ON THE PICS BELOW FOR
THE ENTIRE GALLERY FROM THE FOZZY CD SIGNING!
---
THE HEYMAN HUSTLE IS PROUD TO PRESENT
THE HOLLYWOOD CHARLIE MEDIA WATCH FOR
THE FIRST DAY OF FEBRUARY, TWENTY TEN.
WOW! WE'RE ALREADY ONE WHOLE MONTH
INTO 2010! TIME TO PICK A PIC … AND CLICK!