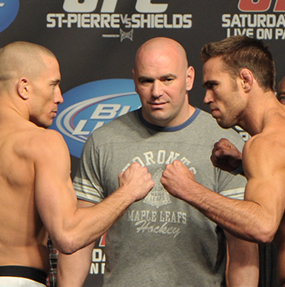 Our Own Hustler De Tuti Hustlers Will Be Interactive Tonight During The History-Making Pay Per View This Evening!

Mixed Martial Arts history will be made tonight when UFC presents its very first stadium event, UFC 129: GSP vs Jake Shields from the Rogers Centre in Toronto, Ontario, Canada! Over 55,000 have packed the Rogers Centre, and over a million are expected to join on pay per view!
CLICK HERE TO SEE A PREVIEW OF GSP VS JAKE SHIELDS!
CLICK HERE FOR INFORMATION ON RANDY COUTURE'S RETIREMENT PARTY TONIGHT!
Please feel free to join the conversation with Paul live tonight by following the Hustle on Twitter HERE or write to us directly at hustleoncrave@gmail.com
You can also subscribe (for FREE, cheapos, absolutely FREE) to our Ultra High Quality YouTube Channel HERE, and don't forget to check out our old school social networking skills by visiting us on Facebook HERE and even on MySpace HERE

IT'S TIME FOR AN ALL NEW EDITION OF THE HOLLYWOOD CHARLIE
MEDIA WATCH, OUR DAILY TRAVEL ACROSS THE WORLD WIDE WEB.
OUR HIGHLY TRAINED MONKEYS HAVE PICKED OUT THE 15 WILDEST
STORIES FROM THE INTERNET FOR YOUR ASTUTE REVIEW. YOUR PART
IS VERY EASY. ALL YOU NEED TO DO IS PICK A PIC … AND CLICK!