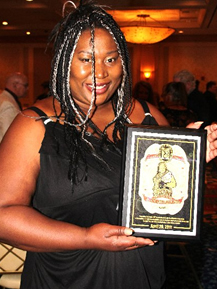 When Awesome Kong Debuted In WWE, The Name "Kharma" Trended Worldwide. Meet Jennifer Thomas, Professional Wrestling's Original "Kharma!"

Jennifer Thomas is a famous fitness model who trained in Ohio Valley Wrestling and Deep South Wrestling when both promotions were part of the WWE Developmental System. Although she never got a WWE contract, the 5'1" hard body remains on the WWE radar through her modeling career and "men vs women" wrestling video series.
Jennifer recently started using the name Kharma on the California independent wrestling scene, and WWE liked the name so much, they purchased the name from her for use by KIA STEVENS aka AWESOME KONG
The Hawaiian Tropic and Flex Magazine uber-hottie is scheduled for a tryout with WWE in the near future, and considering her petite yet power packed physique, we think she'd be a most interesting opponent for the former Kong.
What's your opinion?
Please feel free to share it with us! Join the conversation by following The Hustle on Twitter HERE or write to us at hustleoncrave@gmail.com
You can also subscribe (for FREE, cheapos, absolutely FREE) to our Ultra High Quality YouTube Channel HERE, and don't forget to check out our old school social networking skills by visiting us on Facebook HERE and even on MySpace HERE
You can check out Jennifer Thomas right now by visiting her hot website HERE!
CLICK ON THE PICS BELOW TO SEE THE HEYMAN HUSTLE'S
EXCLUSIVE PHOTO GALLERY FEATURING JENNIFER THOMAS!

IT'S TIME FOR AN ALL NEW EDITION OF THE HOLLYWOOD CHARLIE
MEDIA WATCH, OUR DAILY TRAVEL ACROSS THE WORLD WIDE WEB.
OUR HIGHLY TRAINED MONKEYS HAVE PICKED OUT THE 15 WILDEST
STORIES FROM THE INTERNET FOR YOUR ASTUTE REVIEW. YOUR PART
IS VERY EASY. ALL YOU NEED TO DO IS PICK A PIC … AND CLICK!